Seth Rogen And Jay Baruchel Stop Being Polite In 'The Real World: This Is The End Edition'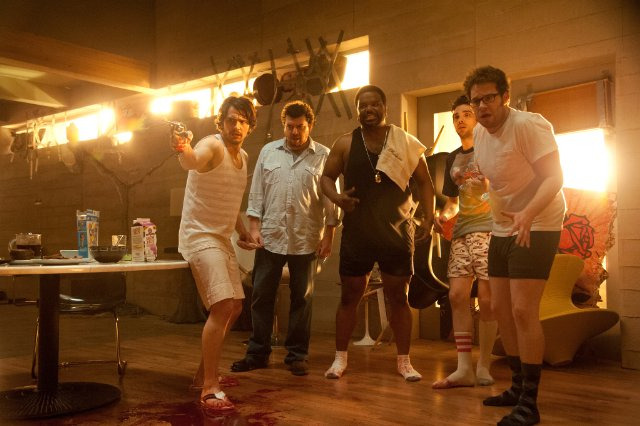 At first blush, a star-studded comedy about the apocalypse and a reality show about hot-tubbing 20somethings wouldn't seem to have much in common. Upon closer examination, however, it turns out they're not very different at all.
Both MTV's The Real World and Seth Rogen and Jay Baruchel's This Is the End involve unruly groups stuck living together — the former because that's what they have to do to get on TV, the latter because the rest of the world has become a fiery pit of despair. Both show housemates forging alliances and nursing grudges. Both see said relationships fueled by copious amounts of inhibition-lowering substances.
But most importantly, both the premiere of This Is the End and the finale of Real World: Portland hit this week. As a result, members of both casts have teamed for a clever bit of cross-promotion titled The Real World: This Is the End edition. Check it out after the jump.
All the recognizable hallmarks of the MTV series are here: the housekeeping disputes, the confessionals, the house meetings, even the hot tub. What may be more surprising, if you haven't seen the movie, is how much this video is also like a scene from This Is the End. True, the movie features far more death and destruction than your average Real World episode. But in Rogen and Baruchel's vision of end times, impending doom doesn't make individuals any less petty or self-absorbed.
The Real World: Portland finale and This Is the End both land this Wednesday, June 12.