Neill Blomkamp's 'Chappie' Based On Short 'Tetra Vaal'; Plus New 'Elysium' Footage In TV Spot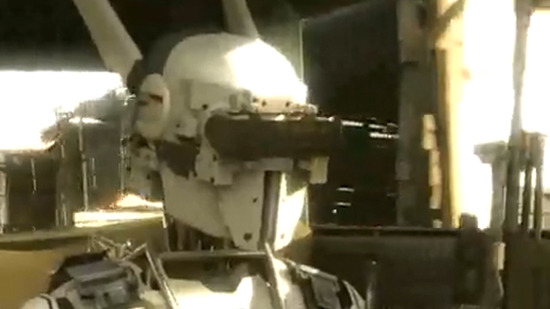 Neill Blmokamp has been done with his second feature film, Elysium, for a while. We had to wait to see it as Sony decided August was a better release window than March. So on August 9 we'll get a look at the film that casts Matt Damon as a desperate member of the economic underclass who invades Elysium, the orbital society of the wealthy.
In the meantime, the writer/director is already at work on his third feature, Chappie. The film, which features Sharlto Copley in a lead role, is described as a strange sci-fi comedy with a "ridiculous robot character," but we haven't known much more about it. Now  we know that Chappie will expand upon Blomkamp's 2003 short film Tetra Vaal. See that short and get some new Chappie info below, along with a new TV spot for Elysium.
Tetra Vaal was a very short film that looked like a bit of marketing for a robotic peace officer, and showed the robot in question patrolling the streets of South Africa. Speaking to Den of Geek, the director admitted that Chappie is "basically based on Tetra Vaal," and says that some of the characteristic robot features seen in the short have been incorporated into the feature.
Chappie also features Eugene Khumbanyiwa (District 9) and, reportedly, Ninja and Yo-Landi Vi$$er of the South African band Die Antwoord. Here's the original short:
Meanwhile, there's this new TV spot for Elysium. Most of this footage will be familiar to those who have enjoyed the first theatrical trailer, but there are a couple of notable new shots.
Elysium also features Jodie Foster, Sharlto Copley, Alice Braga, Wagner Moura, Diego Luna and William Fichtner.
In the year 2159, two classes of people exist: the very wealthy, who live on a pristine man-made space station called Elysium, and the rest, who live on an overpopulated, ruined Earth. The people of Earth are desperate to escape the planet's crime and poverty, and they critically need the state-of-the-art medical care available on Elysium – but some in Elysium will stop at nothing to enforce anti-immigration laws and preserve their citizens' luxurious lifestyle. The only man with the chance to bring equality to these worlds is Max (Matt Damon), an ordinary guy in desperate need to get to Elysium. With his life hanging in the balance, he reluctantly takes on a dangerous mission – one that pits him against Elysium's Secretary Delacourt (Jodie Foster) and her hard-line forces – but if he succeeds, he could save not only his own life, but millions of people on Earth as well.