'White House Down' Extended Trailer: Four Minutes To Save The World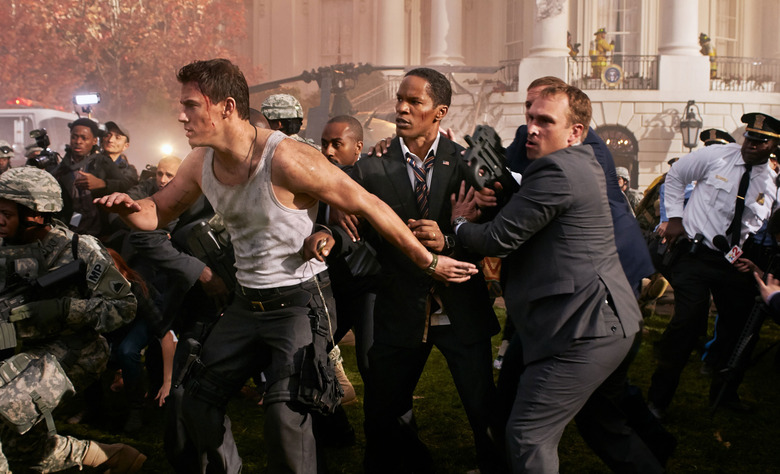 Roland Emmerich's White House Down is the second of two "Die Hard on Pennsylvania Avenue" pics to hit screens this year, but if it delivers on the promises made by this four-minute final trailer, it could just blow the other one out of the water altogether. It has all the ingredients for a satisfying summer blockbuster: tons of big, explosive action; a liberal sprinkling of humor; and even some cute buddy-cop rapport between Channing Tatum and Jamie Foxx. Watch it after the jump.
The explosions are appropriately huge and the stakes are theoretically high, but what really makes White House Down seem worth watching is the chemistry between Foxx and Tatum. I could watch these two bicker about rocket launchers for hours. Their playful relationship also suggests that White House Down isn't taking itself too seriously, which is to its benefit — seeing the U.S. government under attack by paramilitary forces might be pretty disturbing if it didn't look so damn fun.
White House Down lands June 28.
In Columbia Pictures' White House Down, Capitol Policeman John Cale (Channing Tatum) has just been denied his dream job with the Secret Service of protecting President James Sawyer (Jamie Foxx). Not wanting to let down his little girl with the news, he takes her on a tour of the White House, when the complex is overtaken by a heavily armed paramilitary group. Now, with the nation's government falling into chaos and time running out, it's up to Cale to save the president, his daughter, and the country.