'Paranoia' Trailer: Harrison Ford Versus Gary Oldman, With Liam Hemsworth Caught Between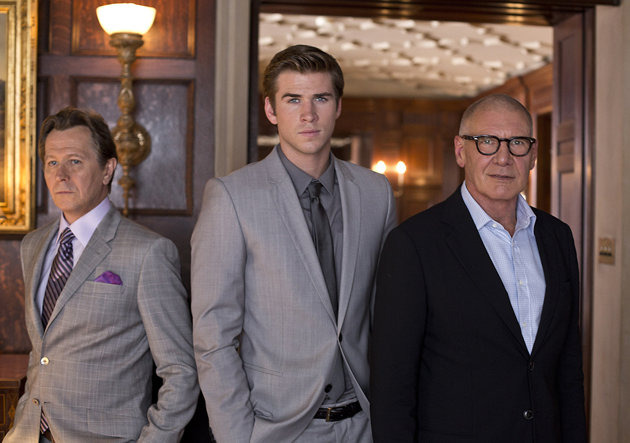 During the summer movies tend towards sun, superheroes and sequels. There are romantic comedies with huge stars, and animated 3D films generating lines that run around the block. That doesn't leave a lot of room for the little guy. But maybe something else can sneak in. Paranoia, directed by Robert Luketic, is an espionage thriller that doesn't boast any big special effects, just an impressive cast with an intriguing plot.
Liam Hemsworth stars as a man hired by one tycoon (Gary Oldman) to spy on his competitor, played by Harrison Ford. Amber Heard, Josh Holloway, and Richard Dreyfuss are caught up in the scheme, too. The film opens August 16. Check out the first trailer below.
Thanks to Yahoo for the trailer.
While the premise seems pretty tried and true, it's the cast that's really keeping me interested here. Oldman, Ford and Dreyfuss? Come on now.
Here's the official description of the film:
The high stakes thriller Paranoia takes us deep behind the scenes of global success to a deadly world of greed and deception.  The two most powerful tech billionaires in the world (Harrison Ford and Gary Oldman) are bitter rivals with a complicated past who will stop at nothing to destroy each other.  A young superstar (Liam Hemsworth), seduced by unlimited wealth and power falls between them, and becomes trapped in the middle of the twists and turns of their life-and-death game of corporate espionage.  By the time he realizes his life is in danger, he is in far too deep and knows far too much for them to let him walk away.