Watch A Video About Visual Effects In The 'Fast And Furious 6' Runway Chase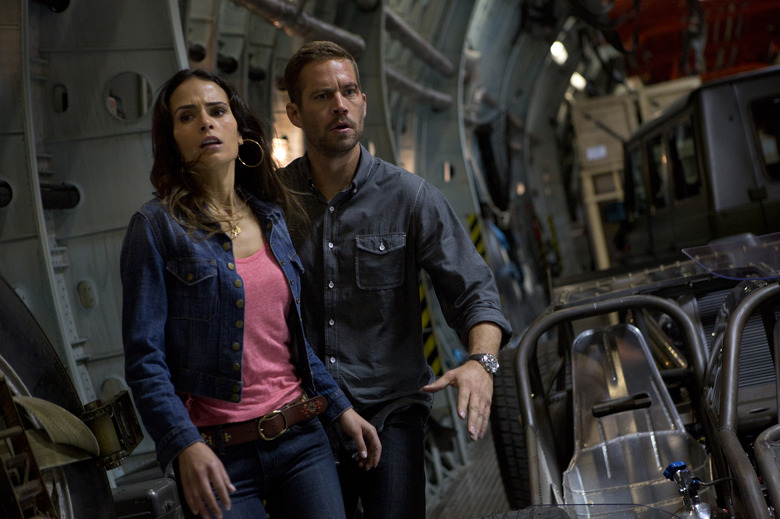 After only a few weeks of release, Justin Lin's latest Fast and Furious film, Fast and Furious 6, is well on its way to being the franchise's highest grossing entry. Pretty impressive for the sixth film in a series that started as a small, family-centric action film filled with green and orange cars. The latest film ups the ante with action and effects that push the bounds of our imaginations and believability. Things get so crazy this time around you have to check any expectation of reality at the door.
Part of the reason the Fast and Furious franchise has thrived under Justin Lin is that the director prides himself on practical action. When you see a tank crushing cars, they actually had a tank crushing cars on set. But in Fast and Furious 6's massive finale, Vin Diesel, Paul Walker, Dwayne Johnson and the crew didn't really bring down a huge aircraft...did they? Check out a brand new video detailing the scene's effects below.
Thanks to Wired for this video.
What a great example of how Lin's insistence on doing effects practically, combined with some digital effects, can build a scene into something truly massive. Is that how you think he shot that scene?
Here's the video's YouTube description:
In this exclusive video from WIRED and Conde Nast Entertainment, find out how director Justin Lin filmed Dominic Toretto's (Vin Diesel's) blazing last minute escape from a massive, crashing and exploding Antonov aircraft for his new #1 blockbuster film "Fast & Furious 6." Don't miss this unbelievable behind the scenes look at the genius work of renowned visual effects house "Double Negative." Huge thanks to our good friends at fxguide.com.