TV Bits: 'Dexter', 'Game Of Thrones', 'Under The Dome', Emmy Awards, Vince Gilligan, M. Night Shyamalan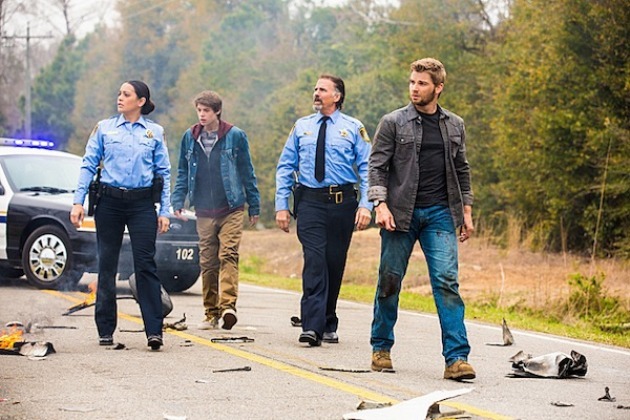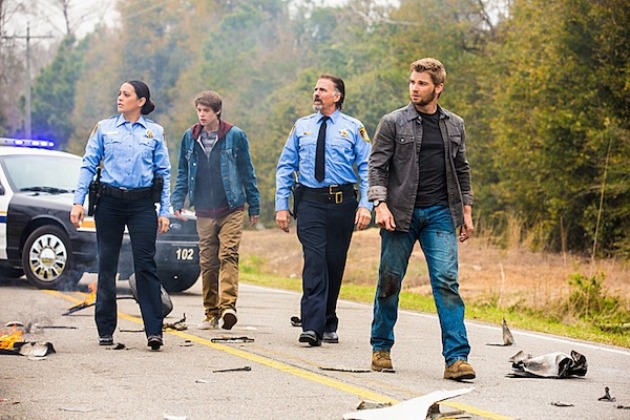 Between the final seasons of Dexter and Breaking Bad and the premiere of CBS' Under the Dome, this summer is shaping up to be an exciting one for TV viewers. After the jump:
George R.R. Martin teases new characters for Game of Thrones Season 4
Melissa Leo boards M. Night Shyamalan's Wayward Pines
Tracy Morgan and Jenna Elfman find new jobs
Amazon makes some decisions about its new series
Comedy Central renews Inside Amy Schumer
Neil Patrick Harris will host the Emmys again
Vince Gilligan chats about the potential Saul Goodman spinoff
See new pics from CBS' Stephen King thriller Under the Dome
Meet Dr. Evelyn Vogel in the new Dexter promo
The Magnar of Thenn. Styr is a major part of Mance Rayder's Wildling army — although a lot of his part in the book has already been given to Tormund Giantsbane. In the book, he leads the scouting party that climbs the wall, which Jon Snow and Ygritte are part of. But presumably he'll play some other huge part in the Wildling attack on Castle Black.
Mace Tyrell. The son of Lady Olenna and father of Margaery and Loras — we've already heard from Lady Olenna that he's a disappointment. Presumably coming to town for Margaery's wedding.Oberyn Martell. The first person from Dorne we've really met — he comes to King's Landing to take a seat on the Small Council, and winds up playing a huge role in Tyrion's storyline.
That's probably just the tip of the iceberg — I'd expect Game of Thrones to add many more before Season 4 begins — but that trio looks like a good start for now. The current season ends June 9. [Tower of the Hand]
Okay, so After Earth probably won't be the project to put M. Night Shyamalan back in critics' good graces. But maybe he'll have better luck on the small screen.
Melissa Leo has just boarded Shyamalan's "event series" Wayward Pines, to air in fall 2014 on Fox. The story follows a Secret Service agent named Ethan (Matt Dillon) who comes to the titular Idaho town in search of two missing agents. Leo will play an "intense, unpredictable" nurse named Pam who initially takes care of Ethan but eventually becomes his enemy. [Deadline]
With 30 Rock behind him, Tracy Morgan has found a new home at FX. The SNL vet is set to star in Death Pact, a single-camera comedy pilot. Here's the logline:
In Death Pact, Morgan stars as a formerly lazy, pot-dealing assistant high school coach who returns to his hometown as a decorated war hero. He runs across three down-on-their-luck friends and former students and sucks them into his new radical self-help philosophy, which involves harsh consequences for failure.
The three other leads have yet to be cast. Production will begin in New York or New Jersey this summer. [Coming Soon]
1600 Penn sputtered out on NBC, but star Jenna Elfman is sticking with the network. Elfman has joined the single-camera midseason comedy The Family Guide, replacing Parker Posey who dropped out earlier this month. She'll play the mom in the middle of a divorce from her blind husband (J.K. Simmons), which paradoxically brings the entire family closer together. Eli Baker plays their son. [TV Line]
After unveiling fourteen pilots last month for users to sample, Amazon has now decided to move forward with five of them: the comedies Alpha House and Betas, plus the childrens' shows Annebots, Creative Galaxy, and Tumbleaf. Zombieland and Onion News Empire were among those that didn't make the cut. The new episodes are expected to hit the streaming service late this year or early next year. [EW]
Comedy Central is getting back in bed with Amy Schumer. The cable network has renewed her sketch comedy series Inside Amy Schumer for a ten-episode second season to air next year. "I am so proud of our show," said the star. "And ecstatic to get to work with all these assholes again." [Deadline]
Everyone likes Neil Patrick Harris, but CBS might love him most of all. The How I Met Your Mother actor is already set to host the Tonys on CBS next month for the fourth year in a row, and now he's also been tapped to host the 2013 Emmys on the network this fall. It'll be his second time emceeing the ceremony; he also hosted the last time it was on CBS in 2009. [Deadline]
Breaking Bad is regularly held up as one of the greatest dramas of our time, so perhaps it's no surprise that Vince Gilligan is eager to manage expectations about the potential Saul Goodman spinoff. While he sounds enthusiastic about it, he cautions, "you never assume lightning is going to strike twice."
We would do out very best to make it a very good show indeed, as we always do with Breaking Bad, but if it doesn't come out quite as good then... well, we'll move heaven and earth to make it every bit as high quality as Breaking Bad, but then there's the intangible question of whether it'll affect people, whether it'll move people as much as the mothership show did, and there's no real answer to that. In fact, the safest answer to that is: 'Probably not to the same level.'
Then you ask yourself, 'Does that mean it's not worth doing?' I think it is indeed worth doing, and the way to approach it is by knowing that it's not going to be the same thing. It's not to be completely of a piece with the original show, but if it's a challenge, and it's interesting to us to do it, that's reason enough. Worst case scenario, it's like the spin-off to M*A*S*H, AfterMASH, that nobody remembers – and I don't think it hurt M*A*S*H any that it existed. I don't think we're going to have that problem, though. Anything based around the character of Saul Goodman and any show starring the wonderful Bob Odenkirk has more than an even chance of being quite good indeed.
Read more of his comments at Empire. Breaking Bad returns to AMC August 11.
The trailers for CBS' Stephen King adaptation Under the Dome have teased some serious thrills. The new photos aren't really as exciting, but they do promise lots of frowning from stars Mike Vogel (Cloverfield), Dean Norris (Breaking Bad), Rachelle Lefevre (Twilight), and more.
Under the Dome premieres June 24. [via Screen Crush]
While Dexter deals with Deb's downward spiral in the next season of the Showtime series, he'll also be facing a new threat in the form of Dr. Evelyn Vogel (Charlotte Rampling). A new promo drops some hints about what her appearance might mean for the character.
Dexter's eighth and final season starts June 30. [Showtime]