'Ain't Them Bodies Saints' Trailer: No Regrets, No Future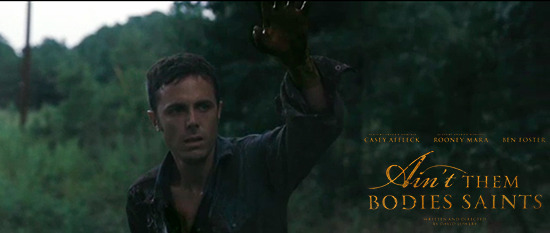 David Lowery's film Ain't Them Bodies Saints was among the best debuts at Sundance this past January, and it quickly found a release deal with IFC. (My glowing review is here.) The first trailer is here, opening with a slow, hazy expression of love which is soon overshadowed by the dark current that runs through the film. Casey Affleck shines as an outlaw who can't quite face the idea that his family may be lost, while Rooney Mara excels as the woman caught at the tipping point between a very different past and future.
A gently percussive score and rhythmic cutting push the trailer forward, and the shade of Cormac McCarthy that inhabits the story becomes a bit more apparent as this edit hits a minor crescendo. It's a great trailer for an excellent film.
One interesting thing is that it seems that Lowery has cut the film since Sundance — the running time at the fest was listed as 104 min, and iTunes lists the current runtime as 97 minutes. There's a tendency in some films such as this one to really linger, and those runtimes suggest that Lowery has reigned in any impulse to dally. I'm excited to see how the film plays as a result.
Variety also offers this video interview with Lowery, Mara, and Affleck discussing the creation of the film.Ain't Them Bodies Saints hits theaters on August 16, and VOD on August 23. Apple has the trailer.
Bob Muldoon (Casey Affleck) and Ruth Guthrie (Rooney Mara), an impassioned young outlaw couple on an extended crime spree, are finally apprehended by lawmen after a shootout in the Texas hills. Although Ruth wounds a local officer, Bob takes the blame. But four years later, Bob escapes from prison and sets out to find Ruth and their daughter, born during his incarceration. Set against the backdrop of 1970's Texas Hill Country, director David Lowery paints a poetic picture, evoking the mythology of westerns and saturating the dramatic space with an aching sense of loss. Featuring powerful performances by Affleck, Mara as well as Ben Foster and Keith Carradine, AIN'T THEM BODIES SAINTS is a story of love, motherhood and searching for peace while faced with an unrelenting past.