'Man Of Steel' Star Henry Cavill Wants Superman / Batman Crossover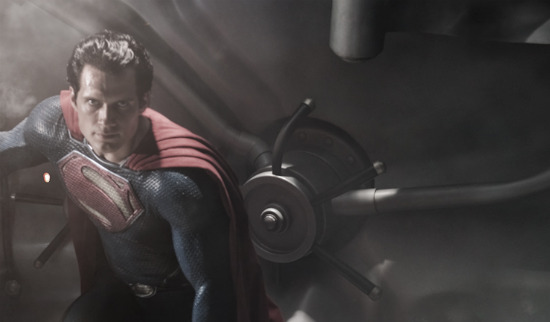 Despite a few lackluster efforts, Warner Bros. hasn't quite managed to set up a Marvel-style DC Cinematic Universe. But whenever they get their act together, they can probably count on Henry Cavill to be game.  In a recent interview, the Man of Steel star expressed his enthusiasm for an idea of a Batman / Superman crossover, declaring it "a great story." Hit the jump to read his comments.
I think it would be really interesting with the age-old Batman/Superman conflict because they are two different sides of the same coin and their methods are entirely different. And I think it would actually make for an interesting story as to why, first of all, they were going head to head and how. I think that would make a great story.
Cavill's not in any place to make decisions about Warner Bros.' upcoming slate, so his comments shouldn't be taken as an indication that any such film is imminent. The actor admitted as much during the conversation. "Who knows," he said. "I'm sure there's all sorts of ideas being thrown around at Warner Bros right now." Still, it's nice to know that should Warner Bros. ever decide to pair the two characters for their own film, at least one of the stars would be on board.
And there is at least a tiny chance they're considering it for real. The studio actually attempted a Batman / Superman film several years ago (pre-Superman Returns) with Wolfgang Petersen, and rumors about a team-up have continued to pop up every now and then. Moreover, if the challenge with Justice League is that it involves too many damn characters, Batman / Superman would be a much simpler way to set up a shared DC universe.
For now, though, it looks like Warner Bros. is keeping their focus on the long-promised Justice League movie. And whether it's in Justice League, Batman / Superman, or something else entirely, it's definitely going to be a couple of years at least before the caped heroes get to cross paths on the big screen. Until then, at least we can look forward to seeing the miniature plastic versions of the characters together in The Lego Movie.