Quicksilver To Appear In Bryan Singer's 'X-Men: Days Of Future Past' And Joss Whedon's 'The Avengers 2'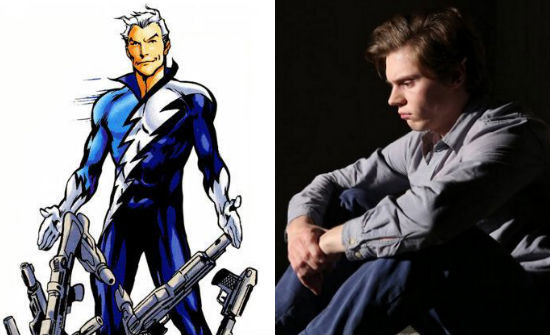 Director Bryan Singer took to Twitter Thursday, announcing the latest piece of casting for his upcoming film X-Men: Days of Future Past. In doing so, he may have inadvertently created a rift in the Marvel Cinematic Universe. Singer revealed that Evan Peters (American Horror Story) will be playing the mutant Quicksilver in the film. Now, that's the same Quicksilver that Joss Whedon revealed would be appearing in The Avengers 2 along with his sister, Scarlet Witch.
How is that going to work? We'll discuss, and have a Kevin Feige quote, below.
Here's Singer's Tweet:
Quicksilver (as well as his twin sister Scarlet Witch) debuted in the X-Men comics, and were eventually revealed to be the children of Magneto. More recently they've become members of The Avengers but their roots have always been in the X-Men. So the fact that Peters – a fantastic actor – will be portraying the character in that universe, makes sense. (We'll be seeing two Magnetos and one could obviously have kids.)
What's odd is the timing and rights issues. Singer has been casting this film for a long time and with production set to start soon, this announcement occurs just weeks after Whedon announced he'd be using the character in The Avengers 2. Contractually, Kevin Feige recently explained how the characters could appear both in the Fox and Disney Marvel universes:
We both have [Quicksilver and the Scarlet Witch]. There's a specific arrangement with those two characters that would allow us to use them with "Avengers," but not discuss or reference their mutant or Magneto-related lineage. They can use them as mutants and as Magneto's relatives, but cannot have anything to do with "The Avengers."
When Whedon last spoke about the characters, he alluded to their "rough beginning." He was likely referring to their evil heritage, something that can't be explored in The Avengers 2. However, he also suggested the characters would fundamentally oppose The Avengers, which is kind of the role Magneto plays in the X-Men films, providing the team with different views on their roles in society
All that rambling aside, here's what's likely going to happen. Evan Peters will do a great job in X-Men: Days of Future Past and Joss Whedon will cast someone who'll also do a great job in The Avengers 2. Wouldn't it be awesome, though, if somehow Peters reprised the role and got the link going?
UPDATE: Hitfix is reporting what I said above is true, but not the cool part. Fox and Disney will each present different versions of the character. Reportedly Singer created an action scene tailor made to Quicksilver and that's why he's in the film. It's not because of some larger connection.