'Grown Ups 2' International Trailer: School's Out Forever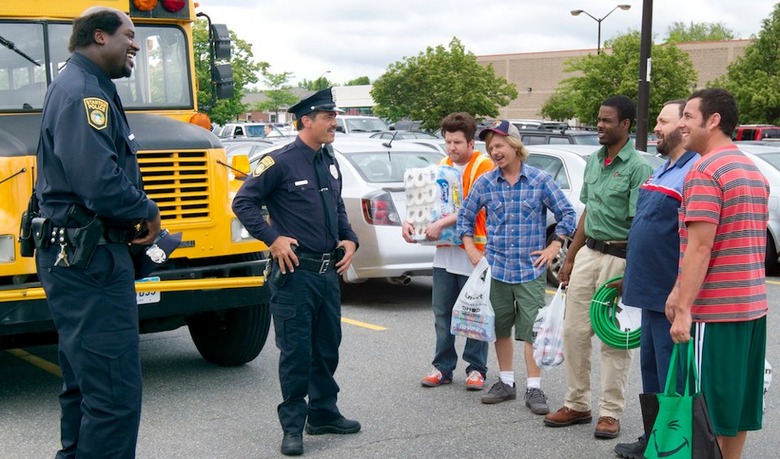 The summer schedule is chock full of sequels we're dying, or at least very curious to see. This weekend alone has Fast & Furious 6 going up against Before Midnight, for example. Monsters University and The Wolverine are due out in the following months. And so on.
Today, however, we have a trailer for what may be the least-anticipated follow-up of the season. (Least-anticipated by the hardcore movie crowd, that is.) Grown Ups 2 reunites Adam Sandler, David Spade, Kevin James, and Chris Rock  in their hometown for still more hilarious shenanigans. The film also brings some fresh blood into the mix, in the form of Taylor Lautner, Patrick Schwarzenegger, and Shaquille O'Neil. Watch the video after the jump.
Opening with a scene of a moose pissing on a man really sets a certain tone for the rest of the trailer, huh? To be fair, the first film was a massive hit — it earned $271 million worldwide on a budget of just $80 million. This isn't my cup of tea, but obviously it is for lots of other people.
Grown Ups 2 lands in theaters July 12. Salma Hayek, Maria Bello, and Maya Rudloph also star. Per the MPAA's PG-13 rating, it promises "crude and suggestive content, language and some male rear nudity" (emphasis mine). At least this one's not bound to incite any Star Trek Into Darkness-style controversy, I guess?
Discuss: Or is Smurfs 2 more deserving of the "least anticipated" title?
The all-star comedy cast from Grown Ups returns (with some exciting new additions) for more summertime laughs. Lenny (Adam Sandler) has relocated his family back to the small town where he and his friends grew up. This time around, the grown ups are the ones learning lessons from their kids on a day notoriously full of surprises: the last day of school.