Zach Braff Taught Woody Allen About Crowd Funding, Plus 'Wish I Was Here' Updates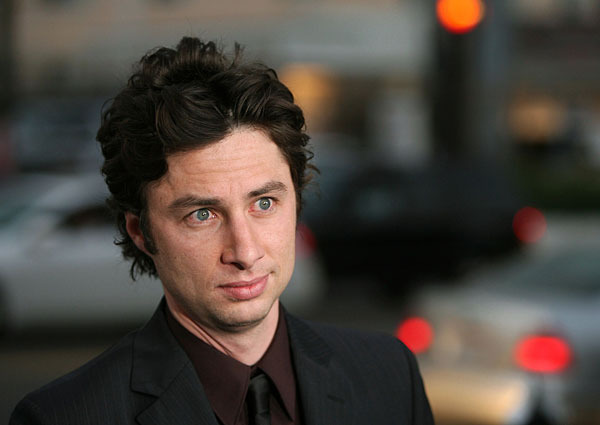 Hating on Zach Braff has become the cool thing to do. The reason being the actor/director took to Kickstarter in April to fund his next movie, Wish I Was Here. It was a polarizing move because many people felt Braff had enough clout to get traditional funding. He agreed, but decided he'd rather make the movie outside the system. Support and money poured in, as did criticism of the plan. Braff has remained steadfast in his decision, and is lining up a fantastic cast for the film. So far he's got Anna Kendrick, Kate Hudson, Mandy Patinkin, Jim Parsons and Josh Gad.
Braff stopped by Sirius XM earlier this week and not only did a little defending, he revealed he off-handedly explained the entire crowd funding avenue to Woody Allen. Allen, whose last few films have all been set in Europe because it's easier for him to get funding there, was apparently quite taken by the idea. Braff also revealed that Soundgarden's Chris Cornell approached him to write a song for the film. Read more, and listen, to the segments below.
Braff was on Sirius XM's Unmasked with Ron Bennington when he discussed Allen, the controversy and the film. Read more at The Interobang.
On the subject of Woody Allen, Braff said the following:
"By the way, I'm the one who explained crowd funding to Woody Allen.  It was really funny," he said.  Braff continued, "He's one of my heroes and I met him because we were talking about doing something together."  They had met on the day the kickstarter blew up, and everyone in the room had been talking about it.   "[Woody] clearly didn't know what anyone was talking about.  So I started to explain it to him.  And I thought, you know, I'm a little nervous around him."  According to Braff, Woody was riveted.  And apparently he made a big impression on the famous director,  "a couple of days ago, his assistant emailed me about something and I said to her – P.S. I'll always remember that I'm the one that explained crowd funding to Woody Allen.  And she wrote back – P.S. You explained it too well. He won't stop talking about it."
Allen's last movie based in New York was 2009's Whatever Works; he's been shooting most of his work in Europe for most of the last decade. Braff surmised that while, Yes, Allen is a filmmaker who can obviously get funding, he can't get funding to work as easily in the States anymore. It's the sad state of Hollywood. He then provided the example that he'd gladly contribute to a Woody Allen Makes Another New York Movie Kickstarter, if something like that was to happen.
Listen to Braff's statements here.
Braff also discussed the online campaign to take out an ad urging fans to not donate to his project, which he views as almost hypocritical. Here's the audio of that or read about it here.
Finally, listen to him talk about the cast here.
It was a very interesting interview and you can hear it in full Saturday May 25th on SiriusXM 99 Rawdog at 8 p.m. ET and Sunday at 3 p.m. and 9 p.m. It will also re-air on Sirius 206 and XM 103, the Opie and Anthony Channel, Sunday May 26 at 10 a.m. ET & midnight ET.  It's also on Sirius XM On Demand. Thanks again to TheIBang.