'Delivery Man' Teaser: Vince Vaughn Has 500 Kids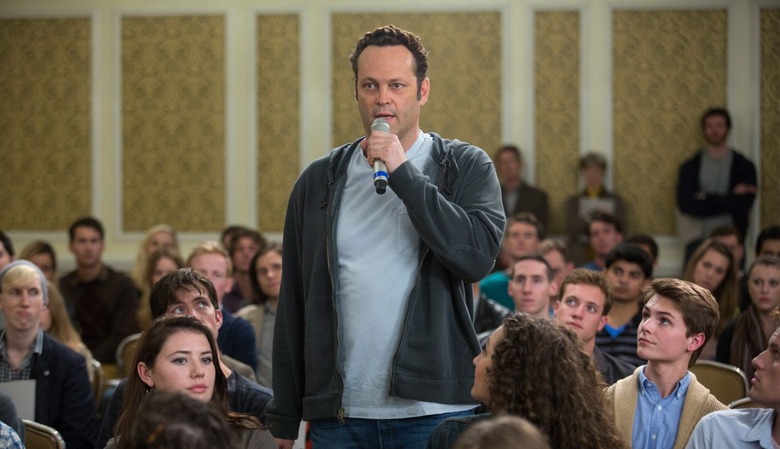 Vince Vaughn's bro-ish onscreen persona doesn't make him seem like he'd be a good father to one kid, let alone a few hundred. But that's precisely the predicament he finds himself in in Delivery Man, Ken Scott's English-language remake of his own 2011 Canadian comedy Starbuck.
David Wozniak (Vaughn) is an aimless 40something who discovers that, thanks to a mix-up at a fertility clinic two decades ago, he has 533 children running around. Now 142 of those kids are suing to learn the identity of their shared dad. Luckily for Vaughn, he has some crack legal assistance in the form of Burt Macklin Star-Lord Chris Pratt. Cobie Smulders (How I Met Your Mother) also stars. Hit the jump to see the first teaser.
It's rare enough for a foreign director to get to helm his own U.S. remake. Scott finds himself in the even more unique position of having both the original and remake versions of his film hit American theaters in the same year. Starbuck got a limited Stateside release just a couple of months ago, and Delivery Man is scheduled to open November 22. That ought to be a fun weekend at the movies; The Hunger Games: Catching Fire, Alexander Payne's Nebraska, and Spike Jonze's Her are slotted for the same date.
Americans aren't the only one that want their own Starbuck, either. French and Indian remakes of the movie are also in the works, though Scott isn't directing those. Who'd have thought that a tale about a terrible sperm bank mishap would prove to be such a crowd-pleaser?
The new trailer is too short to tell us much about the movie, but from here it seems entertaining enough. The premise seems a tad predictable, despite being pretty far-fetched, but it has tons of comedy potential, and Vaughn, Pratt, and Smulders should make for a winning combination. I'm thinking this could be just the blast of silliness we need during Oscar hopeful season.