TV Bits: 'The Walking Dead', 'New Girl', 'Homeland', 'Boardwalk Empire', Larry David, Ricky Gervais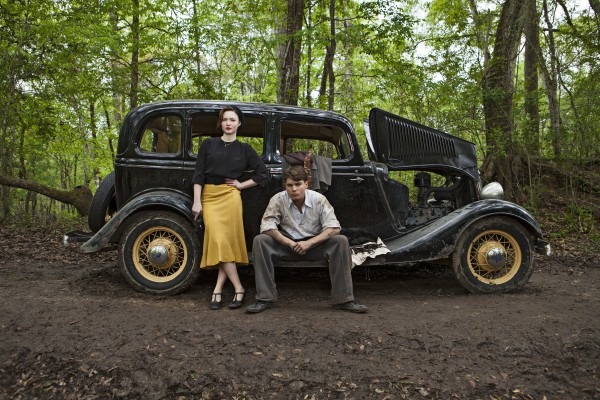 AMC's keeping their fingers crossed that The Walking Dead will never, ever end. Also after the jump:
Ricky Gervais' Derek comes to Netflix this fall
ABC reveals plans to finish 666 Park Ave and Apt. 23
Will Damon Wayans Jr. return to New Girl?
Guillermo del Toro's The Strain adds a Twilight star
Emma Roberts boards American Horror Story
Homeland gets some fresh faces
First pics from Bonnie & Clyde revealed
See teasers for Newsroom, Boardwalk Empire, and Clear History
We hope that zombies live forever and we've just begun to find out what the post-apocalyptic world is like. So that we'll be sitting here at the Barclays conference in 2022 discussing the fact that Walking Dead is not over ... at that point, I think any one of the companies will have replaced the United States government and we'll be in a complete free enterprise world in which there are no nations.
The Walking Dead returns for its fourth season this fall. [THR]
As Netflix prepares to launch their next original programming effort, they've set a timeline for another. Ricky Gervais' Derek will land on the streaming service September 12. In typical Netflix form, all seven episodes of Season 1 will hit simultaneously. [Deadline]
ABC is heading back to The Drake this summer. The four remaining episodes of 666 Park Avenue's first and only season will air on Saturdays at 9/8c from June 22 through July 13. Meanwhile, the network's cancelled comedy Don't Trust the B— in Apartment 23 has also returned, but not to television. ABC has put the eight unaired episodes of Season 2 on its website for free. [TV Line, EW]
There's still no word on whether USA will really pick up Happy Endings, but should things go sour star Damon Wayans Jr. won't have any trouble landing another sitcom gig. New Girl actor Jake Johnson says he'd be happy to "welcome [Wayans] back into the loft." Fans may recall that Wayans played one of the roommates, Coach, on the pilot episode of the sitcom but dropped out when Happy Endings got a surprise renewal.
'I would be surprised if he doesn't come back for a while," Johnson added. "There would be such funny episodes with the Coach seeing what's happened in the past two years since he's [been] gone." Of course, all of this is based on the assumption that Happy Endings is never returning... so, no thanks. [TV Line]
Guillermo del Toro's vampire show The Strain has added a new star who should know a thing or two about bloodsucking. Mia Maestro, recently seen in Breaking Dawn – Part 2, will play biochemist-turned-warrior Nora Martinez on the FX series.
Maestro joins Corey Stoll, who plays CDC employee Ephrain Goodweather. The plot centers around their efforts to stop the spread of a mysterious vampiric disease. [TheWrap]
In other FX casting news, Emma Roberts has boarded the witchy third season of American Horror Story, titled Coven. Her character, Madison, is described as a self-absorbed party girl.
The extensive cast for Coven includes returning actors Jessica Lange, Sarah Paulson, Lily Rabe, Frances Conroy, Taissa Farmiga, and Evan Peters, plus series newcomers Kathy Bates, Angela Bassett, Patti LuPone, and Gabourey Sidibe. [TV Line]
Homeland has brought on two more cast members for the upcoming third season. Amy Morton (Boss) has just nabbed the role of Carrie's CIA-appointed attorney Erin Kimball, while Tracy Letts (Prison Break) will play Senate Committee Chairman Andrew Lockhart. Both are recurring parts. Season 3 premieres September 29.
To commemorate the 79th anniversary of Bonnie Parker and Clyde Barrows' deaths, Lifetime and History have revealed the first three promo photos from their upcoming miniseries Bonnie & Clyde. Emile Hirsch and Holliday Grainger play the notorious outlaw duo this time around.
If nothing else, they look really good. The four-hour tale will air over two nights on Lifetime, History Channel, and A&E later this year. [via Collider]
HBO is getting back into the Larry David business. The premium cable channel has unveiled a brief first teaser for Curb Your Enthusiasm star's new HBO movie Clear History, and you can see it below.
It's tough to tell under all that hair and those sunglasses, but yes, that's David in the car. Greg Mottola directs the comedy, about a former marketing exec (David) who wants to take revenge on his former boss (Jon Hamm). The film is expected to premiere on HBO sometime in August. [HBO]
Also coming this summer is Season 2 of Aaron Sorkin's The Newsroom. The upcoming episodes will focus on the 2012 presidential race, but the new behind-the-scenes doesn't focus on any particular plot points. Instead, it just shows us what the cast and crew are like when they're hard at work.
Season 2 kicks off July 14.
With the cooler weather of fall will come the fourth season of Boardwalk Empire. The teaser hints at the conflicts to come, with particular focus on Jeffrey Wright as Harlem leader Valentin Narcisse.
Well, that's obviously a guy you don't want to mess with. Boardwalk Empire has yet to announce an exact premiere date, but we can probably look for it to hit in September or so. [HBO]