"Barmageddon Begins" In Two New Posters For 'The World's End;' Plus Edgar Wright Answers Twitter Questions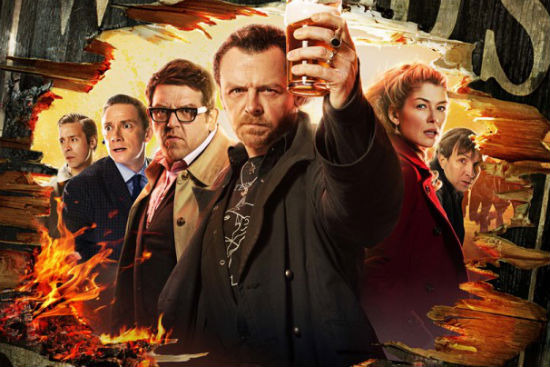 The second trailer for Edgar Wright's The World's End will hit the Web on Wednesday. In anticipation of that event, two new posters have been released. One is another UK banner and the second is our first US one-sheet. Each are similar in that they show Simon Pegg, Nick Frost, Paddy Considine, Martin Freeman and Eddie Marsan mugging for the camera, but now Rosamund Pike's character has joined the group. And Pegg is raising a pint, tying in the drinking element, leading to the new tag line "Barmageddon Begins."
There's even a tease of the film's villains: human citizens with lit-up eyes suggesting they've been taken over by some kind of alien force. We'll likely know more about them on Wednesday. For now, check out the two new posters and read a Q&A Wright did where he reveals a bunch of tidbits about the film.
These poster come from the Focus website and Official World's End site.
Then, over on Yahoo, Wright answered a bunch of fan questions talking about the look of the villains, what movies they watched and more. Here are some highlights, but head to the link for more:
The film's hometown inspiration. 
The look of the invaders comes from "two film posters images that are not in their respective movies (one from 1975 and one from 1982)."
Two movies they revisited this time were It's Always Fair Weather and The Big Chill.
Promises of cameos and homages to Shaun of the Dead and Hot Fuzz.
Jessica Hynes does not make an appearance.
Wright was one offered the chance to direct a Doctor Who episode.
Check back tomorrow for the first US trailer. The World's End opens July 19 in the UK and August 23 in the US.
The third installment of director Edgar Wright's trilogy of comedies starring Simon Pegg and Nick Frost, following the successes SHAUN OF THE DEAD (2004) and HOT FUZZ (2007). In THE WORLD'S END, 20 years after attempting an epic pub crawl, five childhood friends reunite when one of them becomes hellbent on trying the drinking marathon again. They are convinced to stage an encore by Gary King (Simon Pegg), a 40-year-old man trapped at the cigarette end of his teens, who drags his reluctant pals to their hometown and once again attempts to reach the fabled pub – The World's End. As they attempt to reconcile the past and present, they realize the real struggle is for the future, not just theirs but humankind's. Reaching The World's End is the least of their worries.