'The Hangover Part III' Red-Band Trailer: Some Things Never Ever Change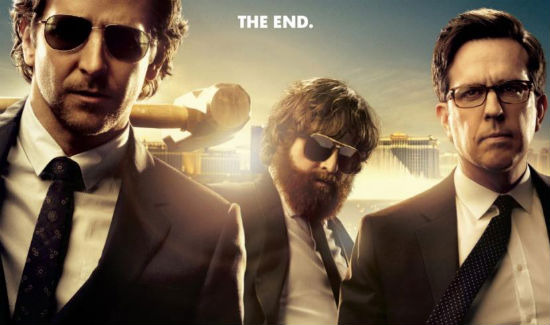 Four years after The Hangover blew up their careers in a big way, Bradley Cooper, Ed Helms, and Zach Galifianakis are circling back to close that chapter of their careers once and for all. Or at least until Warner Bros. realize these movies are still making a ton of money and they need to make more of them.
A new red-band trailer has dropped for The Hangover Part III, the last planned installment of the comedy franchise. As always, red-band means NSFW, so take a look around before you hit the jump to check it out.
Despite promises that Part III would not be a repeat of the last two films, the first half of the trailer is all The Hangover Part I and II. It's also just the tiniest bit poignant, as it becomes clear Alan (arguably the most sympathetic of the trio, which isn't saying much but still) is struggling badly.
Then the shenanigans begin anew in the second half, and it's clear we're back to business as usual with these guys. The plot may center around a road trip instead of a bachelor party this time around, but the gang's tendency to attract trouble will never, ever change. Nor, apparently, will Justin Bartha's habit of getting left behind. 
Directed by Todd Phillips, The Hangover Part III opens May 23.
It's been two years. Phil (Bradley Cooper), Stu (Ed Helms) and Doug (Justin Bartha) are happily living uneventful lives at home. Tattoos have been lasered off, files purged. The last they heard from disaster-magnet Leslie Chow (Ken Jeong), he'd been tossed into a Thai prison and, with him out of the way, the guys have very nearly recovered from their nights prowling the seamy side of Las Vegas in a roofie'd haze, and being kidnapped, shot at, and chased by drug- dealing mobsters in Bangkok.
The only member of the Wolfpack who's not content is Alan (Zach Galifianakis). Still lacking a sense of purpose, the group's black sheep has ditched his meds and given in to his natural impulses in a big way-which, for Alan, means no boundaries, no filters and no judgment-until a personal crisis forces him to finally seek the help he needs.
And who better than his three best friends to make sure he takes the first step. This time, there's no bachelor party. No wedding. What could possibly go wrong? But when the Wolfpack hits the road, all bets are off.
One way or another...it all ends here.