New 'Nymphomaniac' Image, Film Opens Christmas Day In Denmark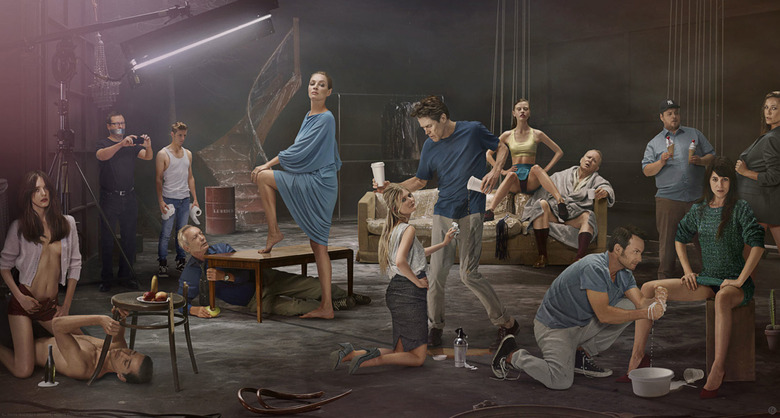 Lars von Trier may have been banned (or "banned") from Cannes two years ago for statements made while promoting Melancholia, but that hasn't stopped him from having a presence at the fest this year. His new film(s), the two-part Nymphomaniac, weren't finished in time for the fest, but the release of a new image (above) and a press release are keeping Trier in the global cinema conversation as Cannes kicks off this year.
Click the pic above for a larger version and you'll be able to see actors such as Shia LaBeouf, Jamie Bell, Udo Kier, Uma Thurman, Sophie Kennedy Clark, Willem Dafoe, Mia Goth, Stellan Skarsgård, Christian Slater, and star Charlotte Gainsbourg, as well as the director. And hit the jump for a press release from Trier's producer, announcing a Christmas Day opening in Denmark. Magnolia has the film in the US, and hasn't announced a release date yet.
Whether Lars von Trier would return to Cannes with NYMPHOMANIAC has been the subject of speculations ever since the project was announced. Even when the producer publically announced a timeline that didn't allow for the film to be ready for screening in May, many were still looking for Trier's two-part work on the Official Competition Lineup for Cannes 2013, when it was revealed. Continued speculations are now directed towards the next question: When will NYMPHOMANIAC have its world premiere?
Zentropa Entertainments and domestic distributor Nordisk Film are happy to put an end to the speculations and announce that Copenhagen, Denmark will be hosting the World Premiere of Lars von Trier's NYMPHOMANIAC in December 2013. The premiere will consist of a red carpet Galla in early December and a domestic theatrical release on December 25th.
Peter Aalbæk Jensen, CEO Zentropa: "Seeing the film's visual effects will be a significant part of the storytelling, we're facing a huge post-production phase and currently Lars has just begun editing PART II. So December is a good month. Besides, what's more Christmassy than a film like this?"
To celebrate a locked date for the film's world premiere, Zentropa Entertainment has released yet another piece of information disclosing the universe of NYMPHOMANIAC; a voluminous ensemble still presenting the main cast. The ensemble still is photographed by Casper Sejersen and features (from left to right): Stacy Martin, Lars von Trier, Shia LaBeouf, Jamie Bell, Udo Kier, Uma Thurman, Sophie Kennedy Clark, Willem Dafoe, Mia Goth, Stellan Skarsgård, Christian Slater, Nicolas Bro, Charlotte Gainsbourg and Connie Nielsen.
Additional cast consists of Jean-Marc Barr, Caroline Goodall, Kate Ashfield, Saskia Reeves, Hugo Speer, Felicity Gilbert, Michaël Pas, Jesper Christensen, Jens Albinus, Cyron Melville, Shanti Roney, Omar Shargawi, Tania Carlin, Severin von Hoensbroech, Peter Gilbert Cotton and many more.
NYMPHOMANIAC is produced by Louise Vesth for Zentropa Entertainments in co-production with Bettina Brokemper for Zentropa International Köln, Marianne Slot for Slot Machine and Bert Hamelinck for Caviar and with support from The Danish Film Institute, Filmstiftung Nordrhein-Westfalen, Eurimages, Deutscher Filmförderfonds, Nordic Film & TV Fond, Centre national du cinéma et de l'image animée, The Swedish Film Institute, Belgian Tax Shelter and Flanders Audiovisual Fund and in cooperation with DR and Film i Väst and with participation from Arte, Canal+ and The West Danish Film Fund and with development support of the Media Programme.