TV Bits: 'SNL', 'Downton Abbey', 'Hannibal', 'Arrested Development', 'HIMYM', 'Zombieland', Mike Judge, The CW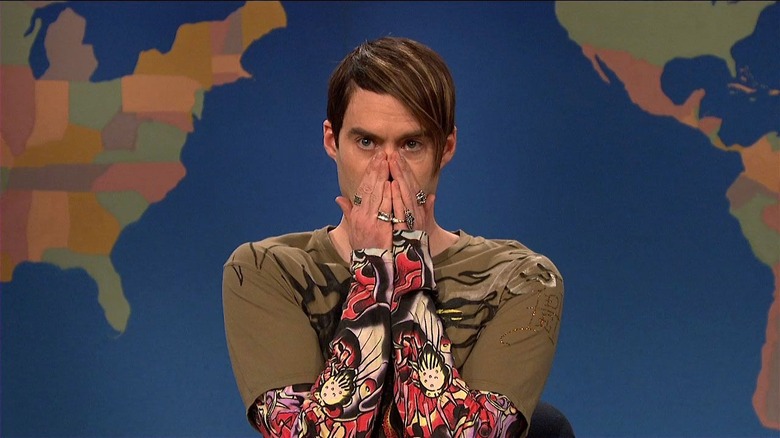 Zombieland dies a second death as Amazon decides to pass on the series. Also after the jump:
SNL loses Bill Hader, retains Seth Meyers
Downton Abbey gets parodied by Diddy and The Simpsons; sets a U.S. premiere date
HIMYM's entire ninth season will take place over one weekend
Is NBC's Hannibal headed to cable television?
USA is still flirting with Happy Endings
HBO picks up Mike Judge's new show and a "gay Girls"
Netflix encourages you to "insert Tobias anywhere"
CBS has another new trailer for Under the Dome
The CW shows off its new 2013-2014 series
Saturday Night Live will look quite a bit different when it returns this fall. Bill Hader has announced that he'll be exiting the series following this weekend's season finale, and a separate unconfirmed report indicates that Jason Sudeikis and Fred Armisen may be on their way out as well.
Surprisingly, one guy who does plan to stick around is Seth Meyers. Despite his plans to take over Jimmy Fallon's Late Night desk in February, the Weekend Update anchor says he'll be staying put through the first half of next season. [Vulture, NYT, NY Post]
The Crawleys will return to our shores once again this winter. PBS has set a January 5, 2014 U.S. premiere date for the fourth season of Downton Abbey, with the finale scheduled for February 23.
That means we still have eight months to wait, so until then feel free to whet your appetite with these parody videos from The Simpsons and Diddy, respectively.
[TV Line, Vulture, Funny or Die]
This week, How I Met Your Mother fans were finally rewarded with a first glimpse at the titular Mother. (Turns out she's "a very sexy baby.") Now the question is how the show plans to stretch out their meeting for a whole other season — but CBS entertainment president Nina Tassler says there's already a plan for that.
According to her, the entire ninth season will take place over the course of Barney and Robin's wedding weekend, during which "each character, before Ted, meets the mother." Sigh. [TV Line]
Hannibal remains the only show on NBC's current slate that hasn't been either cancelled or renewed. But should be the former come to pass, there's a chance it could still live on elsewhere. While no talks have begun, Amazon and at least one cable network are reportedly eyeing the Bryan Fuller-created drama in case NBC decides to ditch it. [Deadline]
In a similar vein, USA is still in talks with Sony TV about a possible Happy Endings pickup now that the sitcom's been cancelled by ABC. Unfortunately, Deadline's spies indicate that a deal looks unlikely to happen. (Insert your own joke about the irony of that title here.) Fingers crossed one of the other networks rumored to be circling will swoop in and save the day. [Deadline]
HBO is ready to add a couple more shows to its already solid lineup. The network ordered two new pilots to series, Mike Judge's Silicon Valley and an untitled dramedy starring Glee's Jonathan Groff.
The former is described as a dark single-camera comedy set in the tech capital, where "the people most qualified to succeed are the least capable of handling success." T.J. Miller, Thomas Middleditch, Zach Woods, and Kumail Nanjiani starred in the pilot.
The latter, created by Mike Lannan and directed by Andrew Haigh (Weekend), centers around three gay male friends (including Groff) living in San Francisco. Both seem likely to debut in 2014. [Deadline]
Anyone who's seen Arrested Development knows Tobias Fünke's acting career isn't quite where he'd like it to be, but the former analrapist now wants your help turning that around. The good doctor has uploaded an audition reel inviting would-be directors to "insert Tobias anywhere" by way of green screen. Watch the results below.
If you'd like to slide him into an opening of your own, more details can be found at his dedicated website. Arrested Development Season 4 lands on Netflix May 26. [Netflix]
One of the most intriguing premieres of the summer could be coming from CBS. The network has revealed a dramatic new trailer for Under the Dome, the sci-fi serial based on Stephen King's novel of the same name.
Could this be the Lost successor we've all been waiting for? Find out when Under the Dome premieres June 24. [CBS]
The CW's embrace of all things sci-fi and supernatural will continue in the 2013-2014 season. Preceding Supernatural on Tuesday nights this fall will be the Vampire Diaries spinoff The Originals, the preview for which you can watch below.
The superpowered The Tomorrow People finds its home on Wednesdays, right after the similarly themed Arrow.
Taking the plum post-Vampire Diaries timeslot on Thursdays is Reign, a period drama about Mary, Queen of Scots.
Come midseason, CW viewers can look forward to the alien drama Star-Crossed and the futuristic The 100.
To see clips from the three fall premieres, head to CWTV.com.