Frank Miller's 'Hard Boiled' Finally Coming To The Big Screen [UPDATED]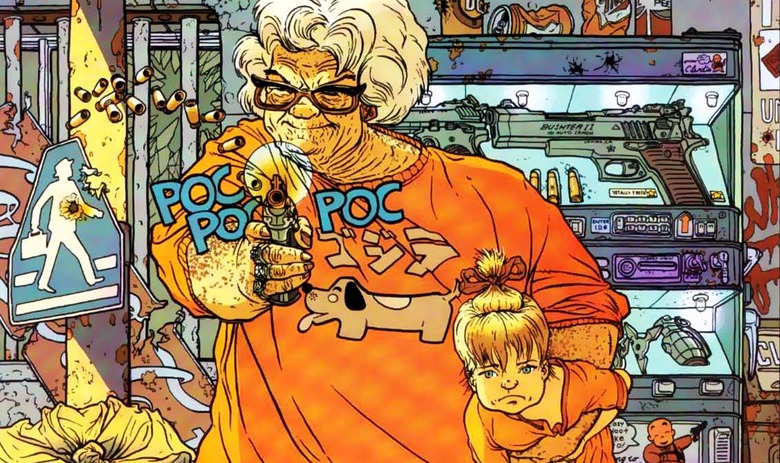 [UPDATE: Solipsist Films has informed us that the details below have not been confirmed with their company. Original text follows.]
Way, way back in 2001, David Fincher was set to direct an adaptation of Frank Miller and Geoff Darrow's comic book Hard Boiled with Nicolas Cage in the lead role. (No relation to John Woo's film of the same name.) Those plans failed to work out, but the project never completely went away. Every few years, there's another little update. In 2008, it was that Miller would now be directing it himself. In 2010, it was that Miller would do it after Sin City 2.
Today, the news is that South African director Mukunda Michael Dewil will help bring it to the big screen. Dewil is best known (insofar as he's known at all) as the director of Vehicle 19, a.k.a. the other Paul Walker car movie due out this summer. Hit the jump to get the details.
I'm adapting Frank Miller's comic book called Hard Boiled with Stephen L'Heureux from Solipsist films. They just did Sin City 2 and they own a lot of Frank's comics. That's a very big project that's going be out to market in a couple of weeks... it's quite a big deal. We're kind of pumped for that.
It's unclear whether Dewil is actually directing the movie or just writing the adaptation. Either way, he's a step down from Fincher, but who isn't? Miller's own film The Spirit suggests he wouldn't be such a hot directorial choice, either. L'Heureux has been with the project for years and is also producing Sin City: A Dame to Kill For, so presumably he's a big fan of Miller's.
Hard Boiled, which debuted in 1990, centers around an insurance investigator named Carl Seltz who learns that he's really a homicidal cyborg tax collector codenamed Nixon. A fellow robot informs him that he's the last hope for their race to escape their programmed slavery. I haven't read the books myself, but they're said to be dark, violent, and intense — which, yeah, sounds about right for Miller.