Star Wars Bits: Kathleen Kennedy Coming To Celebration; Plus EA Games, Warwick Davis And Kenny Baker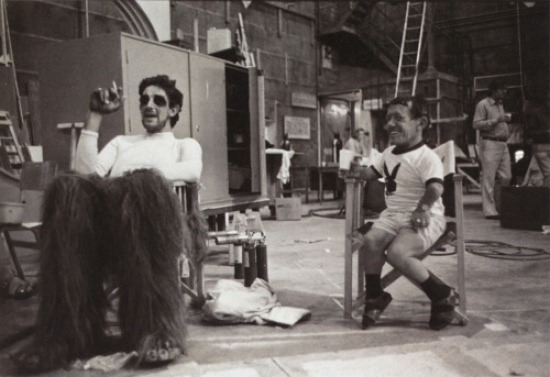 Two actors who've appeared in both Star Wars trilogies talk about coming back for the third in this edition of Star Wars Bits. In addition, read about all this below:
Lucasfilm president Kathleen Kennedy will appear at Star Wars Celebration Europe in July.
Warwick Davis has a new role in mind for Star Wars Episode VII...
...while Kenny Baker would like to play the same role
Electronic Arts is opening a new office to develop Star Wars games.
J.J. Abrams puts the status on Episode VII into a sports metaphor.
When George Lucas retired from Lucasfilm, he left the company in the capable hands of producer Kathleen Kennedy. She's now the primary producer on not only Star Wars Episode VII, but all the Star Wars movies moving ahead. She'll surely be talking about that position when she makes her first convention appearance this summer. Not at Comic-Con, and not at the D23 Expo. Kennedy will be on hand for Star Wars Celebration Europe, talking place July 26-28 in Essen, Germany. Click here and here for more information.
At Celebration, Kennedy will be interviewed by celebrity host Warwick Davis. Should be the perfect opportunity for Wicket the Ewok to pitch the idea he floated to the Latino Post for Star Wars Episode VII:
I'm not in a great hurry to get back inside a furry suit as an Ewok but to play a villain would be very nice, having a lightsaber in my hand would be a great bonus.
While Davis wants to take on a new role, Kenny Baker is game to reprise his. The actor who portrayed R2-D2 in all six Star Wars films spoke to the Lancashire Evening Post about being excited the franchise is coming back to the U.K. and  is hoping they'll ask him to return.
The Wall Street Journal (via ScreenCrush) reports that Electronic Arts, the new home of Star Wars video games, is getting ready to open a new office in Los Angeles for DICE, the company behind the Battlefield games. It's believed they'll be primarily working on Star Wars games. They're also going to be hiring new people.
Finally, J.J. Abrams spoke to the Associated Press about feeling awkward discussing Star Wars, because the process is still in its infancy. How far along is it?
What the approach is going to be remains to be discussed, because it's in process. So it's a weird thing to be talking about. If I'm charging down the court dribbling the ball, it's hard to comment on the layup that's about to take place. I feel like the ball is just getting passed to me now, to complete the annoying metaphor.