Damon Lindelof And Kevin Feige On How To Fix Warner Bros.' Justice League Problem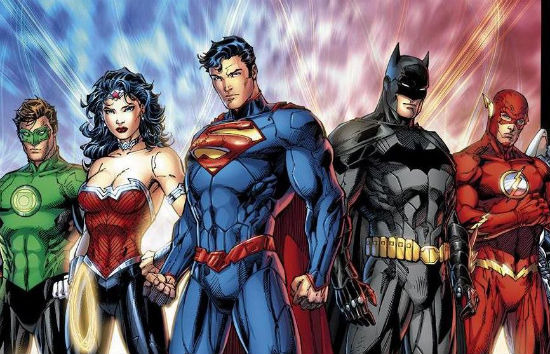 In theory, there's no reason a DC Cinematic Universe shouldn't work every bit as well as — perhaps better, even — than a Marvel Cinematic Universe. In practice, however, we've seen Marvel dominate while Warner Bros. struggles mightily to get their non-Batman and non-Superman properties to take flight. The rumors surrounding the planned Justice League movie haven't been terribly encouraging so far, either.
Plenty of fans and pundits have put forth ideas on why exactly Warner Bros. is flubbing so badly, and today two prominent industry figures have a bit of advice on how the studio could turn things around. After the jump, read Kevin Feige and Damon Lindelof's comments on how to solve a problem like the Justice League.
I don't know. I'm sure they have smart people over there who have a plan and know what they're doing. Man of Steel looks like it's going to be awesome and obviously Dark Knight is awesome. I don't know. It's what I say all the time and have said over the years, which is, have confidence in the characters, believe in the source material, don't be afraid to stay true to all of the elements of the characters no matter how seemingly silly or crazy they are. I don't know, I think the Marvel characters have a bit of a leg up for all the reasons that Marvel fans are aware of in terms of the emotional complexity of the characters and the flawed nature of the characters. Those are obviously the elements we want to accentuate amongst all the action.
His words of wisdom are a little bit vague, but of course Feige's in no position to get more specific. He acknowledges, though, that it's actually the Justice League model from the comics that helped make The Avengers so successful.
I think there have been a lot of great DC stories and there are a lot of great DC characters, and if they focus on those things the audience will be interested. It was a very unique model that we were lucky enough to be able to do – introducing each individual hero before introducing The Avengers. That, to me, is what was always interesting about The Avengers. The Avengers are not The Guardians of the Galaxy, are not The Dirty Dozen, where you spend a movie introducing each character and putting them together for the first time. The Avengers was cool because they were preexisting characters that teamed up for a big event. I think that's why Justice League was cool, Justice League was first. That's what they did first in comic form.
Lindelof had a slightly different take while talking to THR.
The Justice League problem? I think a lot of that depends on Man of Steel. The Justice League problem is not a problem of, who is the bad guy that Wonder Woman and Green Lantern, Superman, whoever you decide to pit them against. The problem is: What's the tone of that movie? They've been struggling with launching their own tone. The tone of Green Lantern is very different from the tone of The Dark Knight. They clearly inhabit two entirely different worlds. You want to feel like someone is establishing a world where the Justice League can exist, maybe Man of Steel is that movie. If Man of Steel works, and it's great, I think it starts to make sense where Paradise Island is in that world. Because that's an entirely different world than the one Christopher Nolan introduced.
Lindelof's critique has been echoed by plenty of fans, but there's a glimmer of hope there — especially since Man of Steel has actually been building some pretty good buzz. What advice would you give DC?