'Rio 2' Teaser Trailer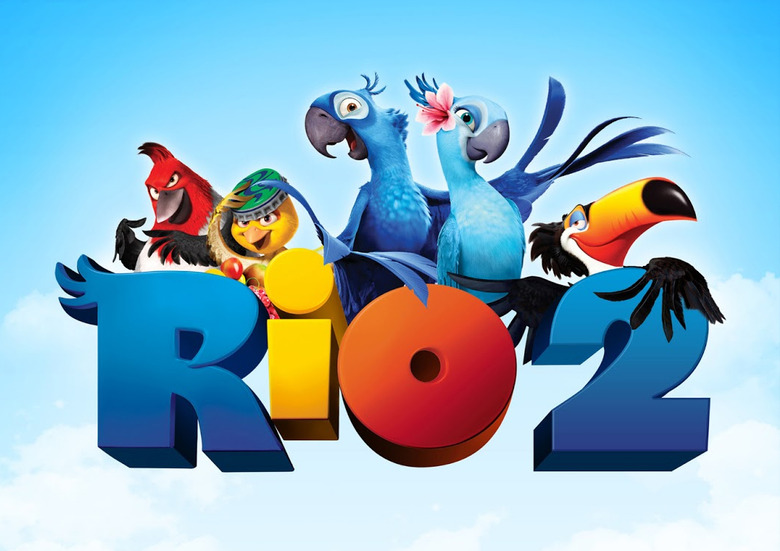 The teaser trailer for Rio 2 follows a well-established pattern: throw away the story, and just give the audience some cute, dancing animals. That works for quite a few family films, but in Rio's case it is more appropriate than most. This is the sequel to a musical about colorful birds that was heavily influenced by the culture of Brazil, after all. So this teaser gets the idea of the sequel across pretty well: it's Rio, again.
Rio 2 opens on April 11, 2014. It features the voices of Anne Hathaway, Jesse Eisenberg, Jemaine Clement, will.i.am, Tracy Morgan, George Lopez, Leslie Mann, Rodrigo Santoro, Brazilian singer Bebel Gilberto, Jake T. Austin and Jamie Foxx along with new cast members set to include Andy Garcia, Bruno Mars, Kristin Chenoweth, Rita Moreno, Amandla Stenberg, Rachel Crow, Pierce Gagnon and Natalie Morales.
Carlos Saldanha returns as director, and John C. Donkin and Bruce Anderson produce once more.
In Rio 2, we find Blu, Jewel and their three kids living the perfect domesticated life in that magical city. When Jewel decides the kids need to learn to live like real birds, she insists the family venture into the Amazon. As Blu tries to fit in with his new neighbors, he worries he may lose Jewel and the kids to the call of the wild. Brazilian music legend and Rio executive music producer Sergio Mendes also returns along with composer John Powell. Rio 2 will feature new Brazilian artists and original music by Janelle Monáe and The Wondaland Arts Society, who also voices a role in the film.