Cool Stuff: Alternative Fan Posters For 'Star Trek Into Darkness'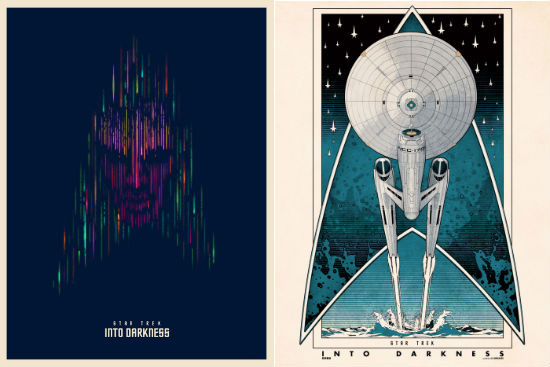 Say what you want about Star Trek Into Darkness, but it's had a lot of posters. Teaser posters, IMAX posters, character posters, the print campaign for the J.J. Abrams sequel has been incredibly extensive and diverse. Star Trek is such a vivid property, however, that there's always room to go further.
One website brought together several up and coming pop artists to reinterpret the film with their own unique style. The results range from minimalistic and eye catching, to exaggerated and exciting. Others are realistic and lyrical. It's a cornucopia of Trekkie goodness. Check them out below.
Thanks to Blurppy for this great post. Mouse over for the artist names and head to that site for more info on each artist as well as alternative views and versions of many.
I think my favorites above are the Matt Ferguson and Adam Rabalais, but the Johnny Dombrowski and Paul Shipper's are good too. Actually, pretty much all of these are good. Plus, there's something for everyone.
Unfortunately, these are just for fun and won't be reproduced but, if you head to Blurppy you can contact each artist and beg if you'd like.
Which is your favorite?
UPDATE – You can win Shipper's poster here.