'Marvel's Agents Of S.H.I.E.L.D.' Extended Trailer Revealed; Series To Air Tuesdays This Fall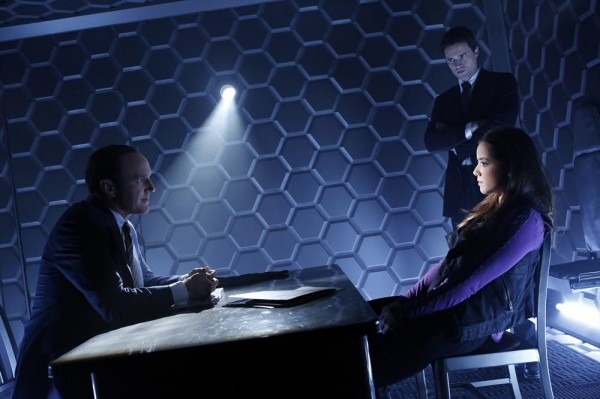 As Iron Man and Thor bring Marvel's Phase Two into theaters, some of the MCU's less famous inhabitants will be making waves on the small screen this fall. ABC officially took Marvel's Agents of S.H.I.E.L.D. to series last week, and has now announced plans to air it this fall on Tuesday nights.
We got a delicious first look at the new show by way of a 30-second promo this weekend, and now an even more extended trailer has dropped. Check it out after the jump, along with a bunch of new stills and clips.
God, it's good to see Coulson back in action again. Even if his miraculous revival is a bit of a cop-out.
Marvel also premiered two very short clips to go with it.
The new images can't compete with the trailer in terms of excitement, frankly. But they do get up close and personal with the show's six main cast members: Clark Gregg, Ming-Na Wen, Brett Dalton, Iain De Caestecker, Elizabeth Henstridge, and Chloe Bennet.
Marvel's Agents of S.H.I.E.L.D. will be up against some seriously stiff competition this fall, as its Tuesdays 8 PM timeslot pits it directly against CBS' ratings juggernaut NCIS. But at ABC's upfront presentation, entertainment group president Paul Lee expressed his faith that S.H.I.E.L.D. would do just fine (via CBM):
We don't normally talk about testing, but [Marvel's Agents of S.H.I.E.L.D.] tested so well in all four quadrants. Joss Whedon knows how to create great television with great relationships at the heart of it. It has relationships and humor but also the promise of the Marvel franchise... We think it's driven by character and will bring a wider audience to us.
Hopefully his confidence isn't misplaced. Based on the stuff we've seen so far, this seems to have exactly what we'd want from a Marvel TV series: action, smarts, heart, intrigue, and a sly sense of humor. An exact premiere date for the series has not yet been announced, but we'll keep an eye out for more info in the coming months.
Clark Gregg reprises his role of Agent Phil Coulson from Marvel's feature films, as he assembles a small, highly select group of Agents from the worldwide law-enforcement organization known as S.H.I.E.L.D. Together they investigate the new, the strange, and the unknown across the globe, protecting the ordinary from the extraordinary. Coulson's team consists of Agent Grant Ward (Brett Dalton), highly trained in combat and espionage; Agent Melinda May (Ming-Na Wen), expert pilot and martial artist; Agent Leo Fitz (Iain De Caestecker), brilliant engineer; and Agent Jemma Simmons (Elizabeth Henstridge), genius bio-chemist. Joining them on their journey into mystery is new recruit and computer hacker, Skye (Chloe Bennet).
Marvel's Agents of S.H.I.E.L.D., Marvel's first television series, is from executive producers Joss Whedon (Marvel's The Avengers, Buffy the Vampire Slayer), Jed Whedon & Maurissa Tancharoen, who co-wrote the pilot (Dollhouse, Dr.Horrible's Sing-Along Blog). Jeffrey Bell (Angel, Alias) and Jeph Loeb (Smallville, Lost, Heroes) also serve as executive producers. Marvel's Agents of S.H.I.E.L.D. is produced by ABC Studios and Marvel Television.