Superhero Bits: Amazing Spider-Man 2, Agents Of SHIELD, Avengers 2, Man Of Steel, Justice League Dark
[no photo]
Want to see a bunch of spoiler-filled set photos from The Amazing Spider-Man 2, featuring Paul Giamatti as The Rhino? How about two new TV spots from Man of Steel? What kind of secrets are held in the Agents of S.H.I.E.L.D. preview? How did one theater showing Iron Man 3 attract the wrong kind of attention? Does Mark Ruffalo think the team will all be back for The Avengers 2? Did Marvel possibly cancel a rumored Iron Man 3 post-credits teaser? What did Guillermo Del Toro have to say about Justice League Dark? Read about all this and more in today's Superhero Bits.
Top: Marc Webb tweeted that image from the set of The Amazing Spider-Man 2.
Moviefone premiere the final poster for Red 2.Mark Ruffalo spoke to Moviefone and said he believes the rumors of Avengers 2 recasting are just that:
I haven't caught wind of any of that. I was surprised to hear it, because I don't even think anyone's really started negotiating yet. As far as I know [everyone is back]. But sometimes actors are the last people to know what's going on.
Want to see the latest Man of Steel TV spot? Of course you do.
Comicbook.com believes the a major cameo is spoiled in a new Man of Steel TV Spot.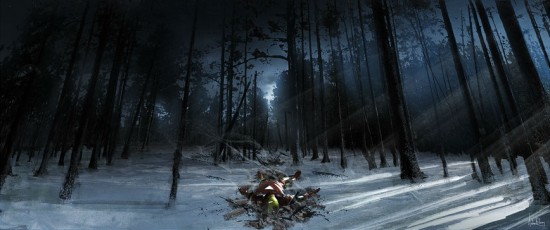 Film Sketchr (via Comic Book Movie) posted a bunch of cool Iron Man 3 concept pieces by Andrew "Drew" Leung from the rural scenes in the film and more.Guillermo Del Toro was at the Los Angeles Times Hero Complex Film Festival this weekend and offered a quick update on Justice League Dark. Collider reported on it:
Del Toro revealed that his script features Constantine, The Swamp Thing, Madame Xanadu, Deadman and Zantanna as the team. He stated that there are other characters in the mix too ("everybody that doesn't feel like a repeat") – but any additional info would be too 'spoilery' for the hypothetical film. Del Toro also said that "If they [Warners] like the [script], I'll do it; if not..."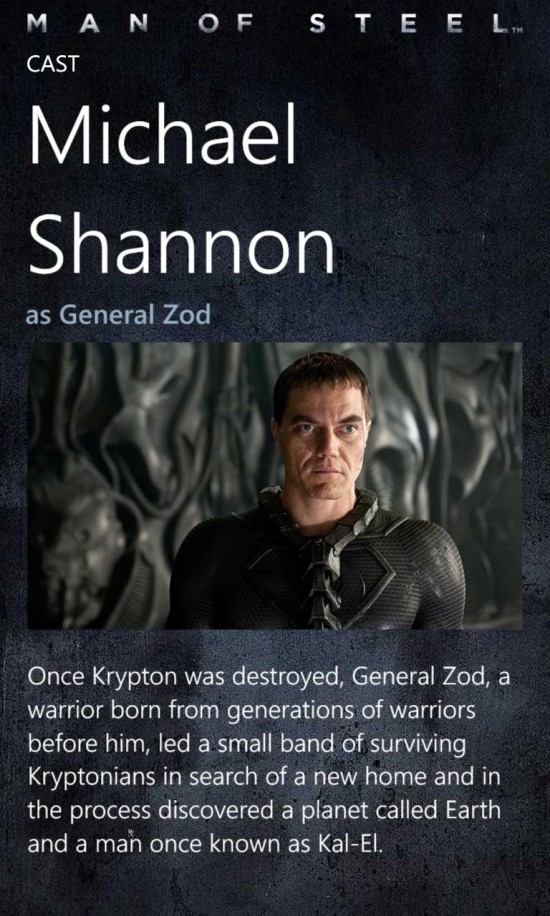 Comic Book Movie posted several new stills from Man of Steel detailing some of the supporting characters. Here's Zod, and see many more at the link. (Note: This description seems different from what we've heard happens in the movie. Hmm. Interesting)
More Mark Ruffalo, who told I Am Rogue about the conception of the stinger scene in Iron Man 3.
Due to the amount of graphics and images included in Superhero Bits, we have to split this post over THREE pages. Click the link above to continue to the second page of Superhero Bits.
Rolling Stone has a full track from the Man of Steel score.
One movie theater hired people to storm a screening of Iron Man 3 with guns. No joke.
IO9 breaks down the Agents of S.H.I.E.L.D. trailer to uncover some of its secrets. Also, Variety details how ABC got the show's promotion together so quickly.
Did one of Mark Ruffalo's latest quotes describe what happened to that rumored Guardians of the Galaxy scene?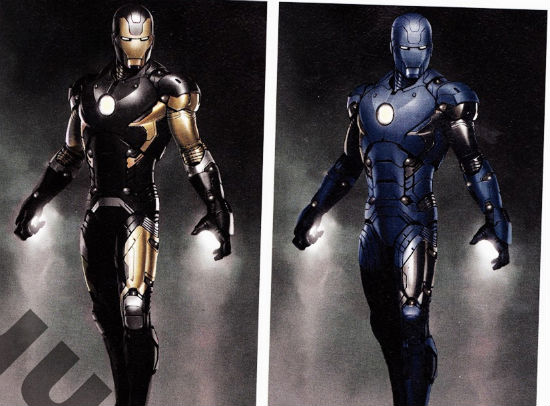 Filmsketchr scanned in a bunch of pages from the Art of Iron Man 3 book.
Speaking to Comicbook.com Iron Man 3 actor Ty Simpkins revealed he has a three picture deal.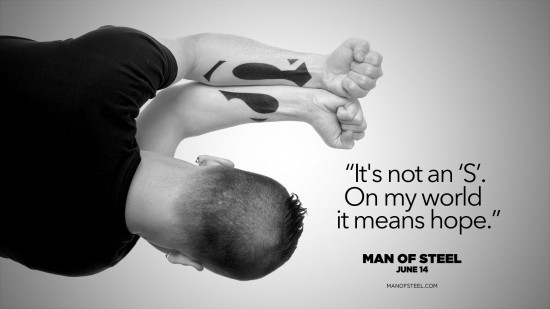 /Film reader Julian A sent us this gorgeous shot of his Man of Steel inspired Superman tattoo.
Marvel executive producer Craig Kyle spoke to Total Film (via CBM) about the scope of Thor: The Dark World.
Here's yet another Man of Steel TV spot from Warner Bros.
Disney, a company known for princesses, has solved their boy problem thanks to superheroes.
THE FINAL PAGE IS FILLED WITH MINOR SPOILER IMAGES FROM THE AMAZING SPIDER-MAN 2.
Due to the amount of graphics and images included in Superhero Bits, we have to split this post over THREE pages. Click the link above to continue to the third page of Superhero Bits.
Fan-Girl (via CBM) posted a huge gallery of images spoiling a gag in The Amazing Spider-Man 2 involving Spider-Man, Rhino and some underwear.
Newscom (via CBM) posted even more photos from Amazing Spider-Man 2 set, including Rhino with a gun and Spider-Man supporting a bus.
More Spider Man 2? How about Spider-Man fighting Rhino via Fan-Girl. Comic Book Movie even has video of it.