Roland Emmerich Hopes To Create A "Series" Of 'Independence Day' Films; Jeff Goldblum Expected To Return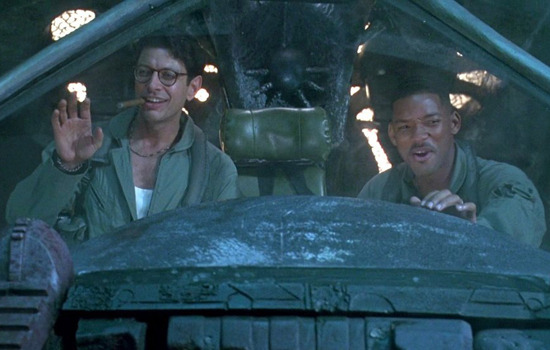 Fans have waited over 15 years for concrete news about a sequel to the 1996 hit film Independence Day. A few months ago, we got some. Co-writers Roland Emmerich and Dean Devlin confirmed that, yes, they have begun working on the sequels. Tentatively called ID Forever Parts One and Two, the rumor was that the films would take place in present day — about 20 years after the events of the first film — and center on the alien retaliation to human victory. Read more specifics here.
The pair were on hand at the Los Angeles Times Hero Complex Film Festival in Hollywood, CA Sunday for a special screening of Independence Day. There they spoke a bit more about the sequels. No major updates, unfortunately, but Emmerich did say they're attempting to create a mythology that would allow not just one or two movies, but a whole series.
Oh and Jeff Goldblum, who was also in attendance, is welcome to return. Read their quotes below.
The first mention of the film came from Devlin, a co-writer and producer on the original, when asked what the latest on the sequels was:
Roland and I would really like to do one. We have some pretty darn good ideas on how to do one and, hopefully, that will all come together. A lot of things have to align. The planets have to piece together and if they do, it'll happen.
They then confirmed that there's a place in their idea for Goldblum.
Later, Emmerich talked about building a mythology enabling for more than one sequel:
That's actually what we talked a lot about. The mythology of why did the aliens come in the first place, what is the bigger story of this whole thing? And we talked a lot about swarm intelligence. And [the humans] are individual intelligence. Even though we kill each other and have wars against each other, we have something special. We have this domino human spirit to believe in good and over coming enemies. And it's a little bit about that and when you get a bigger mythology going, I think then you have the chance to do not only one or two or three but you can create a series and that's what we want to do.
Looking at both Devlin and Emmerich's quotes in context, it seems like they have a lot of grand ideas in place, it's just a matter of making it happen. Emmerich is finishing White House Down at the moment so, you can be sure once that film comes out in late June, he'll have much more to say on this topic.
What do you think Emmerich means about the films being about swarm intelligence vs. the individual human spirit? When do you think these films might happen?
Finally, thanks a bunch to the Los Angeles Times Hero Complex for throwing another fantastic event.