Stacked LA Film Festival Adds 'Man Of Steel,' 'Monsters University,' And Spike Jonze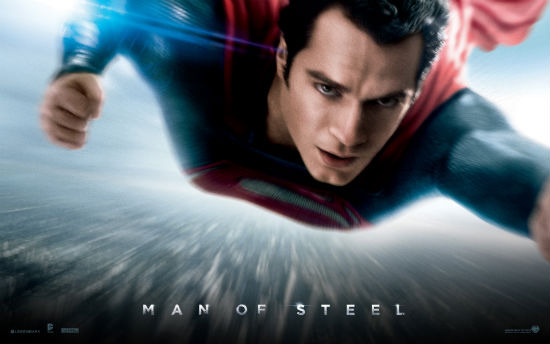 The Way Way Back, Fruitvale Station, Short Term 12, The Spectacular Now, Only God Forgives, Ain't Them Bodies Saints, and In A World. The 2013 Los Angeles Film Festival already features a laundry list of the year's best festival films and highly anticipated fall releases. Now the fest is adding a bit of blockbuster appeal.
The festival, which takes places June 13-23 in downtown Los Angeles, has just added special advanced screenings of Man of Steel and Monsters University. And if that's not enough, Spike Jonze will do a special event talking about his career and presenting footage from his upcoming movie, Her.
For more information on the festival: how to get tickets, passes, when and were it's all happening, check out the official site.
Here's the full press release on the new additions. And check back in June for coverage of the festival here on /Film.
Today the Los Angeles Film Festival, presented by Film Independent, in conjunction with Presenting Media Sponsor the Los Angeles Times and Host Partner L.A. LIVE, announced a special pre-Festival screening of Warner Bros. Pictures' and Legendary Pictures' Man of Steel on June 12. Starting May 10, Festival pass holders will have the exclusive opportunity to purchase tickets to this screening ahead of the general public on-sale via the Festival website. Additionally, joining the Festival line-up is a screening of Disney•Pixar's Monsters University on June 18. The Festival also unveiled new programming, including "A Brand of His Own: Being Spike Jonze," which features a discussion with Jonze; "The Iconic Moment," an event honoring costume designers and the Academy of Motion Picture Arts and Sciences launch of the Costume Designers Branch, which concludes with a screening of Alfred Hitchcock's Vertigo; and "Women in the Cut: A Celebration of Women Editors," a conversation featuring some of today's top editors. For more information on ticketing for both screenings as well as attending programmed events please visit www.lafilmfest.com."Each year the Festival continues the year round work of Film Independent by producinghigh profile, curated events – conversations, master classes and performances – bringing together artist and craftspeople who make the magic happen," said Stephanie Allain, Festival Director. "It's an honor this year to honor women editors, listen to legendary costume designers discuss their favoriteiconic moment in film and then watch Vertigo outdoors at the Academy Lab. As always, alongside our lineup of amazing films, we have an equally stellar list of programmed events that are open to the public, from Maya to Mamet, Spike to Santaolalla. We're taking you behind the scenes with the masters."The special pre-Festival screening of director Zack Snyder's Man of Steel from Warner Bros. Pictures' and Legendary Pictures' takes place June 12 at 7:30 pm and stars Henry Cavill, Amy Adams, Michael Shannon, Kevin Costner, Diane Lane, Laurence Fishburne, Antje Traue, Ayelet Zurer, Christopher Meloni and Russell Crowe. In the film, a young boy learns he has extraordinary powers and is not of this Earth. As a young man, he journeys to discover where he came from and what he was sent here to do. But the hero in him must emerge if he is to save the world from annihilation and become the symbol of hope for all mankind. Warner Bros. will release the film on June 14.The screening of Disney•Pixar's Monsters University takes place on June 18 at 7:30 pm and features the voices of Billy Crystal, John Goodman, Steve Buscemi, Helen Mirren, Alfred Molina and more. A prequel to the 2001 hit Monsters, Inc., the film recalls the college years of Mike Wazowski (voice of Crystal) and James P. Sullivan, "Sulley" (voice of Goodman), before they became best friends. Mike's lifelong dream of becoming a Scarer is derailed during his first semester at Monsters University when he crosses paths with hotshot Sulley and their out-of-control competitive spirit gets them both kicked out of the University's elite Scare Program. The film opens in U.S. theaters on June 21."A Brand of His Own: Being Spike Jonze" takes place June 22 at 8:00 pm. Jonze is both artist and entrepreneur. A pop culture instigator and one of the most original and intriguing filmmakers of our time, Jonze has managed to build a career on his terms. From his early beginnings entrenched in skateboard culture, he grew into one of the most sought-after music video directors. His inevitable leap into feature films displayed a new approach to storytelling and his unique brand of irony, humor, playfulness and visual style has taken audiences to the seventh and half floor, John Malkovich's mind, Charlie Kaufman's writer's block and the fantasy world of Maurice Sendak. Jonze will be discussing his career as well as showing clips from his latest film, the upcoming Her.The Festival also unveiled two incredible events that will take attendees behind the scenes and into the heart of filmmaking. On June 20 at 6:00 pm, the Academy of Motion Picture Arts and Sciences hosts "The Iconic Moment," an event celebrating costume designers and the inauguration of the Academy's Costume Designers Branch. Curated by renowned costume designer Sophie de Rakoff, this evening program explores the convergence of art,design and film and will shine the spotlight on the contributions of costume designers to the world of cinema. The program will include a panel discussion with a group of esteemed costume designers, followed by a reception and an exhibit of photographs by artist Alex Prager. Afterwards, there will be an outdoor screening of Alfred Hitchcock's Vertigo (featuring costumes by acclaimed costume designer Edith Head) at 8:30 pm, preceded by Alex Prager's Hitchcock-inspired short film Despair. "The Iconic Moment" is sponsored by BBC.com.On June 22 at 2:00 pm the Festival will hold "Women in the Cut: A Celebration of Women Editors." The event will take a close look at the creative process of building a film through the work of a select group of women editors who will reveal some of the "secrets" of their craft and their collaborations with directors. Panelists include esteemed editors Sandra Adair (Before Midnight, Bernie), Maryann Brandon (Star Trek, Star Wars: Episode VII, Super 8), Academy Award® nominee Pamela Martin (Hitchcock, Ruby Sparks, The Fighter) and Kim Roberts (Waiting For Superman, Food, Inc. and the 2013 Festival World Premiere, American Revolutionary: The Evolution of Grace Lee Boggs), with additional speakers to be announced. Acclaimed editor, filmmaker and Film Independent Board President Mary Sweeney will host and moderate the event. "Women in the Cut: A Celebration of Women Editors" is sponsored by MelroseMAC.The 2013 Los Angeles Film Festival, which returns to downtown Los Angeles at L.A. LIVE for a fourth year and runs from Thursday, June 13 to Sunday, June 23, will screen a diverse slate of nearly 200 feature films, shorts and music videos, representing more than 40 countries, along with signature programs such as the Filmmaker Retreat, Music in Film Nights at The GRAMMY Museum at L.A. LIVE, Poolside Chats, Master Classes and more. Opening the Festival will be the North American premiere of Pedro Almodóvar's I'm So Excited! and closing the Festival will be The Way, Way Back from Oscar® winners Nat Faxon and Jim Rash and starring Steve Carell, Toni Collette, Allison Janney, Annasophia Robb, Sam Rockwell, Maya Rudolph and Liam James. Visit www.lafilmfest.com for the most up-to-date schedule of films and programming.Previously announced, the official 2013 Festival lineup as well as filmmaker David O. Russell who will serve as Guest Director and will receive the Spirit of Independence Award. Also confirmed were two Master Classes with Artists in Residence Maya Rudolph and Gustavo Santaolalla, "An Evening With Costa-Gavras," including the US premiere of his new film Capital, and an "In Conversation" with playwright/filmmaker David Mamet and actor/stage magician/author Ricky Jay. Also announcedwere the free Community Screenings including a 20th Anniversary screening of Dazed and Confused from director Richard Linklater and a Dance-A-Long screening of John Waters' Hairspray in honor of its 25th Anniversary.