Robert Downey Jr. In Early Talks For Two 'Avengers' Sequels, But What About 'Iron Man 4'?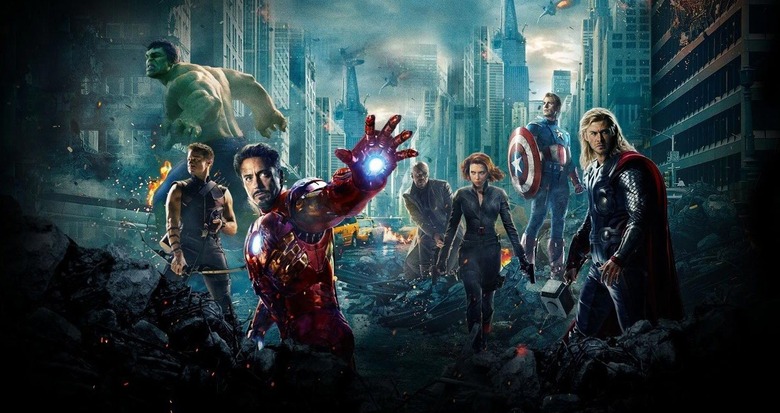 Here's the reason Marvel signs actors to long contracts whenever possible. After the success of Iron Man, Robert Downey, Jr.'s agents worked out a deal with Marvel in which the actor would receive  a percentage of the first-day gross for future films. That's what led him to nabbing between $50m and $75m for The Avengers. Studios hate paying anyone up front like that whenever it can be avoided, and even Downey has laughed about the unusual pay rate he got to play Tony Stark.
Now, after the release of Iron Man 3, Downey has no contract with Marvel. In fact, a few actors have no contract to appear in The Avengers 2, and after the billion-dollar-plus success of the first film, bringing them back together won't be cheap. Marvel likes cheap, and so actors have begun to master the art of negotiating in public by letting us know that there's a chance Marvel will make films without them. How's that going to work out?
Well, Downey is reportedly in talks for two more Avengers films, but there's no plan set in stone just yet, and no public talk of Iron Man 4.
THR reports that Downey is in early talks for The Avengers 2 (dated for May 1, 2015) and The Avengers 3 (undated) but, at this point, not Iron Man 4.Iron Man 3 suggests that we might see someone other than Tony Stark in the Iron Man suit in the future (or no one at all) even if Downey is around as Stark. Whether the studio has the courage to build a fourth standalone movie around that idea or not is unknown.
Marvel's practices with actors playing the Hulk and James Rhodes have proven that it can recast some characters without too much audience blowback. Don Cheadle could theoretically anchor a fourth Iron Man film. But can The Avengers 2 fly with a cast that is changed by 50% from the first film? Deadline says that Chris Hemsworth isn't signed for The Avengers 2, and that "upfront pay, backend compensation, break even points and box office bonuses aren't pinned down yet for several big stars and castmates."
Downey is seen as a key point for the success of Marvel movies, with films that feature the actor doing considerably better than those that do not. Seems like there's little chance of Marvel going forward with Avengers movies without him, even if he doesn't have to wear a single piece of armor for those movies.
Then, of course, there's the fact that everyone else involved with The Avengers knows how much Downey made on that movie and Iron Man 3, and also knows that their own paydays were far smaller. (Think a few hundred grand versus his tens of millions.) That complicates negotiations. As I've discussed before, Marvel pays people relatively little, especially at the outset, but the idea is that the exposure of starring in a Marvel movie pays off down the road at other studios. But stacking that up against Downey's massive up-front payday might sting.
The short takeaway here is that Marvel has put itself in a position for some heated, complex deal negotiations that are going to play out in part in public. And some of those negotiations are going to be ugly — when Downey hits the point where he has made over $100m from The Avengers and Iron Man 3 alone it's hard to stomach his contract hardball play. Maybe some of those millions could be diverted to the effects teams who also make these movies fly, to make their schedules more workable and their paydays more appealing?
Meanwhile, THR also mentions that Marvel has scripts for Blade and Ms. Marvel that came out of the same writer's program that produced an early Guardians of the Galaxy draft, and that Doctor Strange, Iron Fist, Black Panther and The Runaways are all strong possible new films going forward. There's a Marvel future without Robert Downey, Jr., but he suggested on a recent Daily Show appearance that he's ready to negotiate, and we probably won't see that particular future for a few more years.