New Posters For Comic Book Adaptations 'Man Of Steel' And 'R.I.P.D.'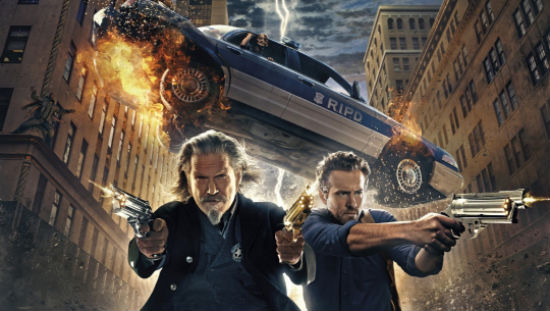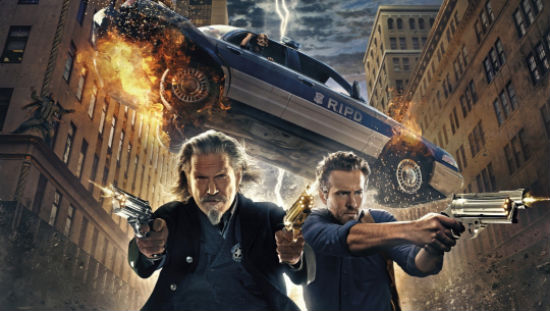 Another day, another set of new posters for comic book adaptations. Tuesday brings brand new looks at both Robert Schwentke's R.I.P.D. starring Jeff Bridges and Ryan Reynolds as well as yet another banner for Zack Snyder's Man of Steel starring Henry Cavill, Amy Adams and Michael Shannon.
Both posters expand on previous ones, adding action and scope. In the case of R.I.P.D., that's accomplished by adding a slew of new elements: vortexes, explosions, and hovering police cars. For Man of Steel, the task is simpler: pull back and fly away. Check out the posters below.
Thanks to Empire for the R.I.P.D. poster and @ManofSteelMovie on Twitter for that one.
Which of these posters do you like more? Is this the best Man of Steel poster yet?
Here's the plot of R.I.P.D: 
Jeff Bridges and Ryan Reynolds headline the 3D supernatural action-adventure R.I.P.D. as two cops dispatched by the otherworldly Rest In Peace Department to protect and serve the living from an increasingly destructive array of souls who refuse to move peacefully to the other side.
And Man of Steel:
Clark Kent/Kal-El (Cavill) is a young twentysomething journalist who feels alienated by powers beyond anyone's imagination. Transported to Earth years ago from Krypton, an advanced alien planet, Clark struggles with the ultimate question – Why am I here? Shaped by the values of his adoptive parents Martha (Lane) and Jonathan Kent (Costner), Clark soon discovers that having super abilities means making very difficult decisions. But when the world needs stability the most, it comes under attack. Will his abilities be used to maintain peace or ultimately used to divide and conquer? Clark must become the hero known as "Superman," not only to shine as the world's last beacon of hope but to protect the ones he loves.