Benicio Del Toro Joins Paul Thomas Anderson's 'Inherent Vice'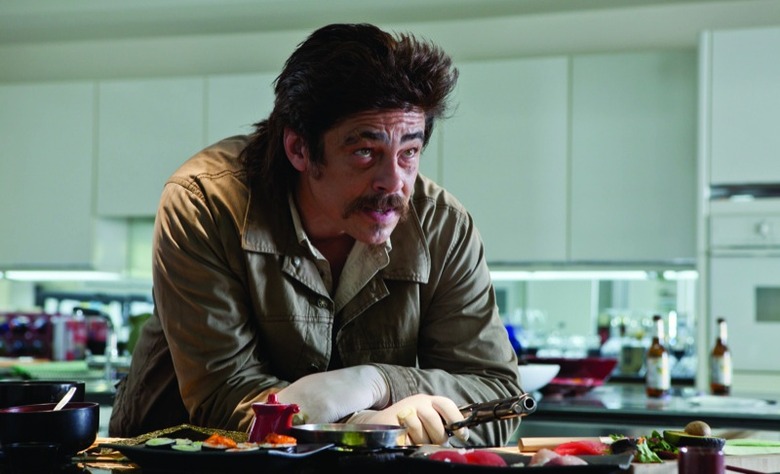 Director Paul Thomas Anderson will likely add an Oscar winner to the cast of his next film, Inherent Vice. Benicio Del Toro is in talks to join the project which stars Joaquin Phoenix as Doc Sportello, a stoner private detective on the case of a missing girlfriend. Kevin J. O'Connor (There Will Be Blood, The Master) will also reportedly appear in the film.
Del Toro would play the small, but crucial role of Sportello's lawyer friend; O'Connor's role is yet to be determined.
The Wrap broke the news of Del Toro's casting and Cigarettes and Red Vines broke the O'Connor news.Inherent Vice is based on a the Thomas Pynchon novel of the same title and reportedly will start filming this month having recently received financing from Warner Bros. It marks Anderson's first film with Warners. Here's the plot description, and expect more casting to be announced over the next few weeks:
Part noir, part psychedelic romp, all Thomas Pynchon— private eye Doc Sportello comes, occasionally, out of a marijuana haze to watch the end of an era as free love slips away and paranoia creeps in with the L.A. fog. It's been awhile since Doc Sportello has seen his ex-girlfriend. Suddenly out of nowhere she shows up with a story about a plot to kidnap a billionaire land developer whom she just happens to be in love with. Easy for her to say. It's the tail end of the psychedelic sixties in L.A., and Doc knows that "love" is another of those words going around at the moment, like "trip" or "groovy," except that this one usually leads to trouble. Despite which he soon finds himself drawn into a bizarre tangle of motives and passions whose cast of characters includes surfers, hustlers, dopers and rockers, a murderous loan shark, a tenor sax player working undercover, an ex-con with a swastika tattoo and a fondness for Ethel Merman, and a mysterious entity known as the Golden Fang, which may only be a tax dodge set up by some dentists.