Check Out Some Concept Art From Darren Aronofsky's 'Batman: Year One'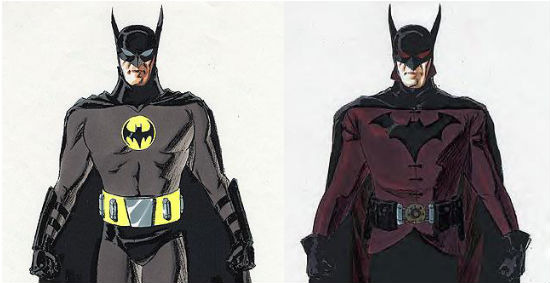 UPDATE: Darren Aronofsky commented on Twitter about this work. Read his quote below.
Long before Christopher Nolan's Batman Begins hit theaters, director Darren Aronofsky almost made his own take on Batman. After finishing Requiem For A Dream in 2000, the director was developing a screen adaptation of Frank Miller's milestone Batman story Batman: Year One. He co-wrote a screenplay with Miller and began conceiving he look of the film before Warner Bros. pulled the plug in favor of Nolan.
Luckily, things worked out not only for the director, but for Miller, Nolan, and Batman as a character. Still, the dream of an Aronofsky-directed superhero movie continues to elude us. (Don't forget he was also going to direct The Wolverine before leaving that project.) Now a slew of concept images have come online giving us a tiny glimpse at what the man who'd later direct The Fountain, The Wrestler and Black Swan had in mind for the Caped Crusader.
Comic Book Movie posted a bunch images, of which this is just a small sampling. Head to their site to see Catwoman, Jim Gordon and the Batmobile.
In the same article, they give the following reasons why Warner Bros. didn't move ahead with the film. Apparently Aronofsky wanted to totally reimagine Batman. This isn't confirmed, but here's CBM is reporting:
Now before most of you wonder why WB's didn't pick it, it was mainly due to the fact that it completely changed everything about Batman and really wasn't anything like Year One. The script was penned by Darren Aronofsky and Frank Miller (think I know what the problem maybe is). In the script, Bruce Wayne wasn't a billionaire playboy but was homeless, living on the streets of Gotham. Alfred is an African-American mechanic who isn't even called Alfred but instead called Big Al. Also Batman drives a souped up Lincoln Towncar. Also Bruce Wayne gets the idea of Batman because when he beats up wrong-doers down on the streets of Gotham he punches them with a mighty ring on his finger bearing the initials of his father: Thomas Wayne... T-W... which ends up looking like a bat symbol on the foreheads of said criminals... hence The Batman.
Aronofsky has never lost his desire to make a Batman movie and maybe, in the coming years, he'll get his shot. As it stand now, what do you think of the images?
UPDATE: Aronofsky took to Twitter to discuss this work.
btw none of that year one batman art circling the web originated from mine or frank's work. so can't take credit or blame for it.

— darren aronofsky (@DarrenAronofsky) May 7, 2013
Which means this work was likely FOR this project, but it wasn't anything he directly did or approved. It was just a team hired to come up with ideas.