Seemingly Innocuous 'Amazing Spider-Man 2' Set Photos Hint At Film's Finale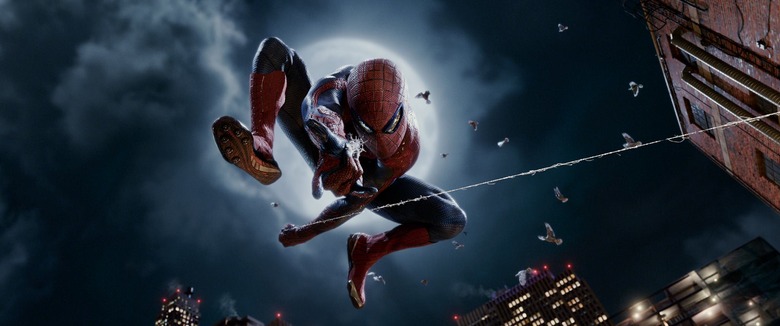 Usually, set photos of a character's street clothes aren't that big a deal. People like to see pics of a hero's costume when it's our first look at a character, and maybe shots of regular old street clothes are good to demonstrate the period accuracy of a film. But these set pics from The Amazing Spider-Man 2 are a different story, because they suggest something very specific about a scene in the film.
To be kind to the spoiler-averse, we'll put all the big details after the break.
First, here are a couple photos of Emma Stone as Gwen Stacy taken on the set of The Amazing Spider-Man 2. (via SHH.)
And here are a couple pages from The Amazing Spider-Man #121, which upon publication immediately became notorious for being the issue where Gwen Stacy dies. Notice the way the character is dressed.
Seeing Emma Stone in that particular outfit doesn't bode well for her character. We've known that Gwen Stacy likely wouldn't live through the three planned movies in Sony's current Spider-Man arc, but the suggestion that she'll die in the second film is fairly new. If that does take place in this film, it also suggests that we'll see the Green Goblin in some form, likely played by Chris Cooper, who has been cast as the Goblin's alter-ego Norman Osborn.
Now, this could be director Marc Webb playing on our assumptions, and the knowledge that photos would surface of this shoot. Stone playing directly to the camera helps me think this might all be a play on what we expect to see.
The Amazing Spider-Man 2 stars Andrew Garfield, Dane DeHaan, Shailene Woodley, Paul Giamatti, Felicity Jones, Chris Cooper, and Sally Field. It opens in 3D on May 2, 2014.
In The Amazing Spider-Man™ 2, for Peter Parker (Andrew Garfield), life is busy – between taking out the bad guys as Spider-Man and spending time with the person he loves, Gwen (Emma Stone), high school graduation can't come quickly enough. Peter hasn't forgotten about the promise he made to Gwen's father to protect her by staying away – but that's a promise he just can't keep. Things will change for Peter when a new villain, Electro (Jamie Foxx), emerges, an old friend, Harry Osborn (Dane DeHaan), returns, and Peter uncovers new clues about his past.