Star Wars Bits: Mark Hamill Talks 'Episode VII,' Plus Simon Kinberg, J.J. Abrams, Hundreds Of BTS Photos, Comic-Con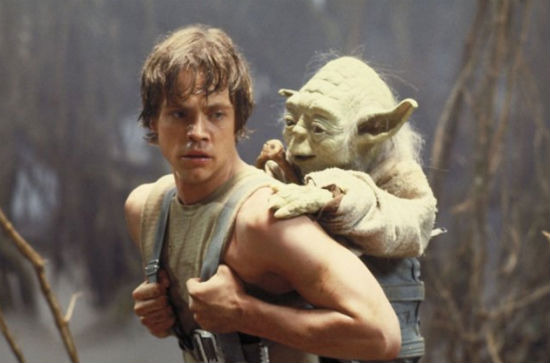 Some of the principals behind Star Wars Episode VII have been discussing the film recently, plus the resurgence has brought out a few new pieces of pop culture ephemera. Below, read about all this and more:
Mark Hamill spoke about Star Wars Episode VII this weekend, confirming he's had one creative meeting.
Episode VII producer and spin-off writer Simon Kinberg talked about his film.
Check out a gallery of 1138 behind the scenes photos from the Star Wars films.
The BBC talked to J.J. Abrams about Episode VII.
Watch videos of Abrams and his Star Trek Into Darkness cast talking about the new Star Wars film.
Some of Timothy Zahn's Star Wars novels are becoming audio books.
A black series Boba Fett with Han Solo in Carbonite is coming to San Diego Comic-Con.
One fan built the Mos Eisley Cantina.
Tons of stars such as Nicolas Cage and Sir Ben Kingsley give their thoughts on new Star Wars movies.
J.J's Place is a comic book blending Star Trek and Star Wars.
The biggest Star Wars news to come out on this year's May 4th weekend came from the Entertainment Weekly CapeTown Film Festival, which featured three sold-out screenings of Return of the Jedi. (The special edition in 35mm, if you're curious). Luke Skywalker himself, Mark Hamill, spoke to two of the three audiences and talked at length about the film's production, his current thoughts on the franchise, the prequels, George Lucas' creative process and more. Ain't It Cool News did a great round up of both Q&As, the highlight being the following.
Hamill admitted the audience probably knows more about Star Wars Episode VII than he does, but he has had one creative meeting about the film and stressed the importance of practical effects over CGI:
There's nothing wrong with CGI, but I think you have to have a balance because the camera perceives the width and the depth and the weight of a miniature or a model.
He also said he knew Carrie Fisher was in and was pretty sure about Harrison Ford, but had yet to talk to him directly. Read more of Hamill's great quotes at the above link or on Entertainment Weekly.
Someone else talking about new Star Wars films this weekend was Simon Kinberg, a producer on Episode VII and writer of one of the two announced spin-off movies. In an new interview with the Los Angeles Times, he talked a bit about the progress on his spin-off and much more. Here's one quote:
We're really at the early phases of figuring out the details, but the spirit of the original movie is the thing I fell in love with, so it's the spirit of that that I think will guide us.
/Film reader Adam M alerted us to this huge gallery of behind the scenes photos from the Star Wars Trilogy. There are 1138 of them. Get it?
Most fans consider Timothy Zahn the king of the Star Wars novel. He's done a little over a dozen but not all of them are available in audio form. Rebelscum is now reporting that Star Wars: Allegiance, Star Wars: Specter of the Past (Hand of Thrawn) and Star Wars: Vision of the Future (Hand of Thrawn) will all be coming to audio book in the fall. Read more at the link.
Star Wars Episode VII director J.J. Abrams spoke to the BBC about the wonderful, humbling opportunity that directing the film brings. Here's a snippet:
It's just about about approaching it from as authentic a place as possible, and not trying to apply what you believe or think, as much as trying to filter everything and get at it from the core of the characters....[It should be] what you deeply want to see, never what you assume the fans might like.
Absolute Radio was on the red carpet for the premiere of Star Trek Into Darkness and talked to the cast and crew, including director J.J. Abrams about Star Wars Episode VII. Here are the videosUSA Today revealed one of Hasbro's San Diego Comic-Con exclusives, a Black Series Boba Fett complete with Han Solo in Carbonite. Check out all the images below.
Boba Fett Black Series Preview
This is pretty crazy. The Sun wrote about a UK Star Wars super fan, Luke Kaye, who was so unimpressed by recreations of the Mos Eisley Cantina, he decided to build his own. Head there for more images, but here's one.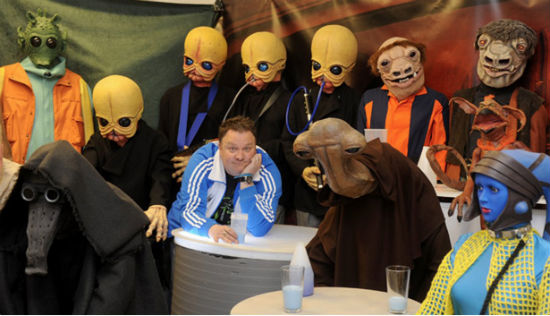 Total Film has been asking the stars of a bunch of new movies – such as Sir Ben Kingsley, Nicolas Cage, Zoe Saldana and others about their thoughts on the new Star Wars movies. Head to this link to see two full videos.Comic Book Movie premiered a new web comic called J.J's Place, which blends the worlds of Star Wars and Star Trek. It's written by Edward Gross and drawn by Pat Carbajal. Here's just one frame.