Now Bradley Cooper Has Also Dropped Out Of 'Jane Got A Gun'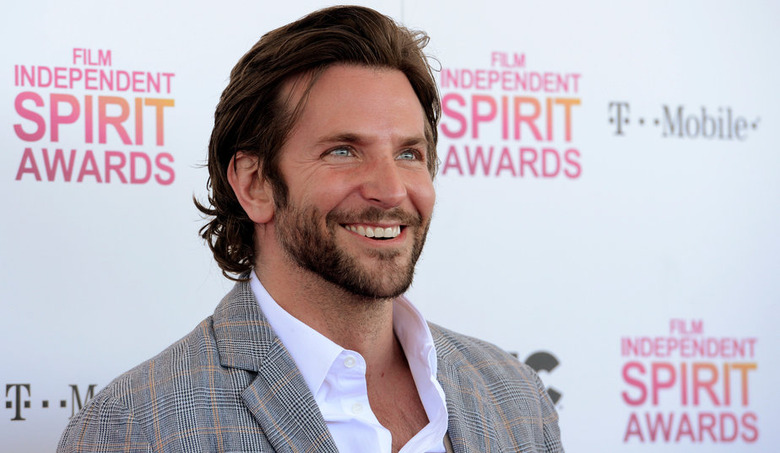 I don't believe in curses, but if I did I'd be inclined to believe Jane Got a Gun was suffering from one. Bradley Cooper has just dropped out of the notoriously troubled Western, making him the third actor to do so in just two months. Joel Edgerton, Natalie Portman, and Noah Emmerich remain on board.
Producers are now scrambling to find a replacement, and are reportedly eyeing Jake Gyllenhaal, Tobey Maguire, Joseph Gordon-Levitt, and Tom Hiddleston as possibilities. Hit the jump for more details.
According to a statement issued by Cooper, he was forced to leave due to scheduling conflicts. Sometimes that just turns out to be a polite excuse, but in this case it makes a lot of sense. Cooper's most recent project, David O. Russell's American Hustle got pushed back a bit when the Boston Marathon attack shut down the city, and he's due to start doing press for The Hangover Part III in the next couple of weeks.
Fortunately for producers, they have a bit of time to fill the role. (Not much time, mind you, but more time than they had to find someone to take Ramsay's discarded gig.) Cooper wasn't slated to shoot scenes until June, so his exit shouldn't delay things too much. Potential replacements Gyllenhaal and Maguire were actually mentioned as potential leads several weeks ago, after Law left and before Cooper joined.
Cooper was set to play the villain of the piece, a gang leader who shoots one of his members and leaves him for dead. When that victim, played by Emmerich, returns home to his wife (Portman), she reaches out to an ex (Edgerton) for help defending her farm.