Cool Stuff: 'A Saga In The Stars: A Tribute To A Galaxy Far, Far Away' At Gallery Nucleus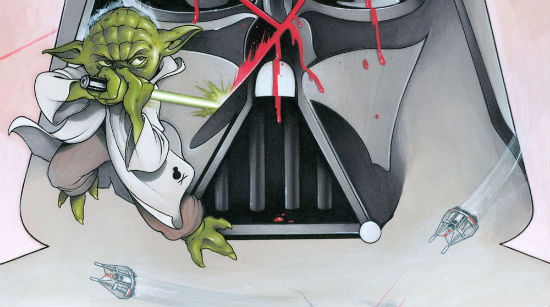 If you've noticed an increase in the amount of Star Wars talk in the past few days, don't blame J.J. Abrams. Well, actually, the fact that he's promoting that *other* franchise right now does have something to do with it. Mainly, though, the Force has been strong because May 4th is fast approaching.
Unofficially, May 4 is known as Star Wars Day ("May the Fourth Be With You") making it the perfect time for all kinds of places to plan Star Wars related events. Disney is doing a bunch of things, 30th anniversary screenings of Return of the Jedi are on deck, and one southern California art gallery is joining in the fun.
Gallery Nucleus in Alhambra is hosting an exhibit called A Saga in the Stars: A Tribute to a Galaxy Far, Far Away. It features the work of several dozen artists in all mediums making art based on Star Wars. After the jump, check out a small selection from the show and find out how to see more.
A SAGA IN THE STARS: A TRIBUTE TO A GALAXY FAR, FAR AWAY opens from 7-10 p.m. May 4 at 210 East Main St., Alhambra CA. It remains on display through May 26 and more gallery info (like gallery hours) can be found at gallerynucleus.com.
Here's a small selection of work in the show. Mouse over each for the artist names.
Here's the full list of artists in the show:
Adam Matano, Alberto Cerriteño, Allen Williams, Ana Bagayan, Andy J. Miller, Annie Stegg, Anthony Francisco, Ben Butcher, Caitlin Hackett, Caroline Hadilaksono, Chris Murray, Christopher Lee, Cuddly Rigor Mortis, Cynthia Sheppard, Dan Matutina, Dan Santat, Dave Dorman, David Au, Dean Reeves, Edward Kinsella, Eric Diaz, Eric Velhagen, Glenn Kim, Hermann Mejia, Jackie Huang (Woolbuddy), Jake Parker, Jeff Victor, Jeremy Costello, Jeremy Wilson, Jessica Fortner, John Hendrix, John Malloy, John Wu, Joy Ang, Justin Gerard, Kassandra Heller, Kelly McKernan, Kristian Huitula, Liam Brazier, Liana Hee, Luke Pearson, Marcus Napuri, Mark Sperber, Mattias Adolfsson, Michal Wright-Ward, Michelle Romo, Nimit Malavia, Oliver Akuin, Patrick Awa, Paul Wee, Phil McAndrew, Robert Romanowicz, Shag, Stephan Martiniere, Stephanie Law, TADO and Victo Ngai.
Thanks to Laughing Squid for a few of the images. Which is your favorite?