'The History Of Future Folk' Trailer: Probably The Only Alien Folk Duo Sci-Fi Action Romance Comedy Movie Ever Made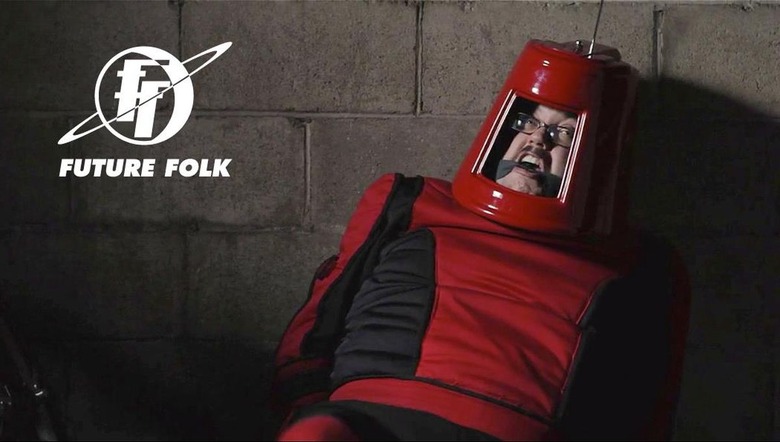 One of my regrets from last year's Fantastic Fest was that I never reviewed The History of Future Folk, a comedy/musical about a couple of aliens doing time as an NYC folk music duo as they try to make their way back home. As a long-time fan of the band Man... Or Astro-Man?, which plays surf-punk in the guise of a group of aliens that crash-landed on Earth, I figured that The History of Future Folk would be able to push my buttons pretty easily.
What I found was something better: a gentle and smart film that mines great jokes from the alienation of being a genuine alien, and which tackles relationships and family issues just as easily as it crafts catchy songs.
Not to give too much away, there's Bill (Nils d'Aulaire), an alien from the planet Hondo, who went native after landing on Earth, taking a wife and fathering a daughter. An ambitious assassin, Kevin (Jay Klaitz), arrives from Hondo to coerce Bill into fulfilling his original mission, and Bill does his best to show Kevin what Earth is all about. The first trailer has been released, and you should check it out below. 
John Mitchell wrote the film, and co-directed with Jeremy Kipp Walker. And yeah, that's Dee Snider of Twisted Sister in one scene. (He plays the owner of the bar where Future Folk plays.) Watching this trailer I want to revisit the film just for the scene where Bill introduces Kevin to Earth music, as it was one of my favorite scenes from 2012.The History of Future Folk will play some theaters in late May, and will hit VOD on June 4th. This is an endearing, clever, and very funny movie — see it!