Sequel Bits: 'Transformers 4', 'Hangover III', 'Monsters University', 'Sin City', 'The Muppets'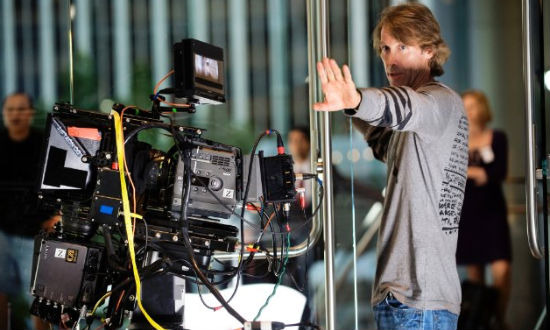 Watch out, Texas: Michael Bay's Autobots and Decepticons are coming to destroy your towns. Also after the jump:
Woman in Black: Angels of Death adds two young Brit stars
Sorry romcom fans, Bridget Jones 3 isn't coming anytime soon
Transformers 4 continues casting; Bay talks character redesigns
Ray Liotta chats about the Sin City and The Muppets sequels
Paul Verhoeven had fun watching the Total Recall remake fail
Cozy up to the cutest cast member from The Hangover Part III
Disney parks reveal big summer plans for Monsters University
Jeremy Irvine and Phoebe Fox have just boarded the ghost story, which sees the Eel Marsh House seized by the government during World War II. When a group of evacuated children arrive to stay, they're disturbed by the resident spirit. [Deadline]
It's been nearly a decade since Bridget Jones: The Edge of Reason, but Colin Firth says we still have a ways to go before we'll see the third installment of the romcom series.
Unfortunately, it might be a bit of a long wait. I wouldn't say that it's completely dead in the water, but the way it's going you might be seeing Bridget Jones' granddaughter's story being told by the time we get there. ... There is a joy of doing those movies that keeps hope alive. And the story is going in an interesting direction. I just wouldn't say that the movie is imminent.
Oh well. In the meantime, I highly recommend The Lizzie Bennet Diaries for any Austen fans in need of a fix. [Chicago Sun-Times via Coming Soon]
In addition to Chicago, Detroit, Hong Kong, and other parts of China, Transformers 4 is heading to areas around Austin, Texas. The film will shoot in the town of Lockhart, Taylor, Elgin, and Pfugnerville this June, for a chase scene between the Autobots and Decepticons. Meanwhile, Michael Bay's also been spotted looking at LaSalle Street between Randolph Street and Jackson Boulevard in Chicago.
How exactly China fits into the new story remains unclear, but casting for Chinese actors is now underway. According to Asian Pop News, actors Huang Xiaoming, Chen Kun, and Tong Dawei are "very likely" to be in the movie, with Huang already having hired an English tutor to brush up his language skills.
Along with an all-new human cast, Transformers 4 will feature an entirely redesigned robot lineup. In an interview, Bay spoke a bit about the process of making them over.
You know there are a couple of historians of Transformers. I would do my designs of the robots and they're like, "What if you just add a little bit more ears to Optimus?" But they're really hands off. We've redesigned them in "Transformers 4," and there's some really cool sh*t in it. I'm literally redesigning every character, top to bottom. There's a reason why they're redesigned, but it's also to keep it new and fresh to me. I think the fans will appreciate some of this new stuff we have in the movie and some of the new characters.
Having a hand in the redesign was important to Bay, as he wanted to make sure to leave behind a solid foundation for the next director of the Transformers franchise.
It's hard to let go of your franchise. You don't want someone to f*ck it up. So I at least wanted to set it up on some good footing. Because you're going to get a different kind of director [who is] not going to want to follow in my footsteps. Directors feel very territorial. So they're going to go to a more inexperienced director. It's just the way Hollywood works. And I'm thinking, "God, so I'll redesign it, set it up... Someone's gonna f*ck this up. This is way too big of a thing." And I'm looking at all these kids and I'm like, "F*ck, I gotta do one more." And then I brought Mark [Wahlberg] into it. So now we've got a movie star, we've got full redesigns. At least it'll be on good footing.
Transformers 4 lands June 27. [Transformers Live, Moviefone]
Not much is known about Ray Liotta's role in the upcoming Sin City: A Dame to Kill For, but he dropped a small hint in a recent interview.
I did something in Sin City, the sequel to that. I play a guy who's cheating on his wife with somebody.
That still isn't a ton of information, but this being Sin City, I'm sure that act of infidelity leads somehow to violence and vengeance and eventually death.
Happily for Liotta, his turn in the The Muppets... Again! seems to have had a happier ending. "I just did a movie with The Muppets. I did not not kill one," he said. And no, none of them tried to murder him, either.
Probably because instead of playing a Mafia guy or a crooked cop, he was just playing an actor named Ray Liotta. "I played myself," he explained, showing off a photo of himself cuddling with a Muppet. "Who's the bad guy? It's my first movie romance." See the two sides of Liotta when Sin City: A Dame to Kill For lands October 4 and The Muppets... Again! opens March 21, 2014. [Collider]
This next bit isn't technically sequel news, but remakes are pretty close, right? While many filmgoers were unhappy to see what Len Wiseman had done to Paul Verhoeven's Total Recall, Verhoeven himself admits he was thrilled to see it fail. "That was fun," he said. "Also because they had been arrogant in interviews. Both the producer and Colin Farrell both had been bashing the old one. Colin Farrell called it kitsch."
He's a little more optimistic about Jose Padilha's upcoming Robocop remake, however. "I'm hoping that Robocop will use a little 'wink wink' once in a while," he said. We'll see how that works out when the movie opens February 7, 2014. [THR]
The first Hangover had a baby and the second had a monkey, but the creature hanging out with the wolf pack in The Hangover Part III may be the cutest of all. Meet their "super friendly" giraffe pal in the latest poster.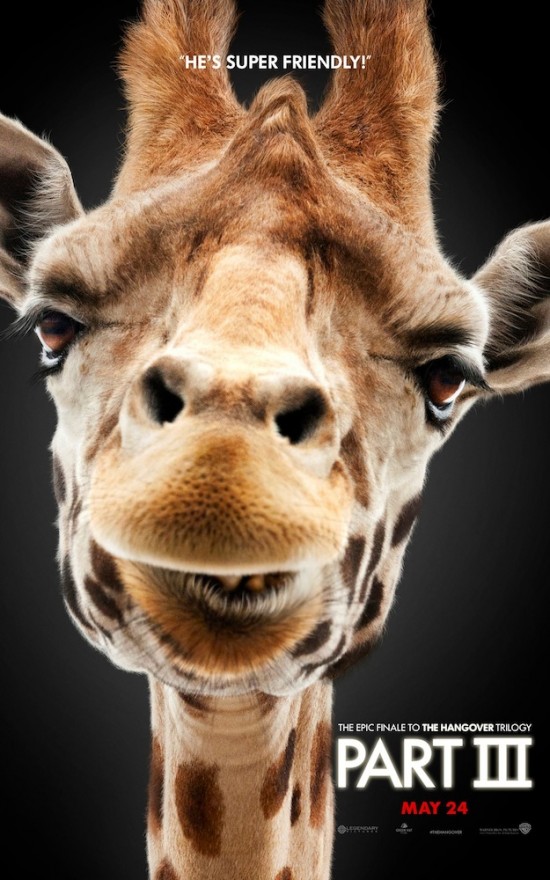 The gang reunites May 24.
Prospective Monsters University students will get an opportunity to visit part of the campus this summer at Disney parks. The school's Student Union has been recreated in the Backlot of Disney's Hollywood Studios, while visitors to Disney California Adventure will get to stand outside of Mike and Sulley's dorm building. Check out the concept art below.
California Adventure will also host the Monsters University Production Gallery, with "drawings, renderings, character descriptions, and scenes" from the film on display. Get a preview below.
And over at Walt Disney World in Florida, the monorail has been outfitted with a new Monsters University design which you can see below.
Monsters University is in theaters June 21. [Disney, The Disney Blog, Attractions]