Joe Carnahan In Talks To Direct Military/Drug Trade Thriller 'Sugar Bandits'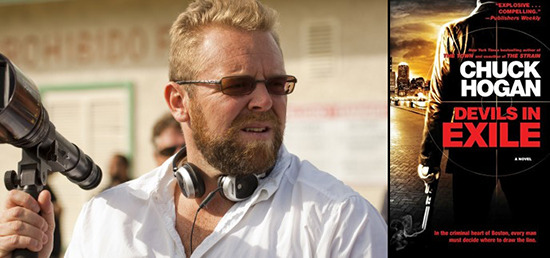 After Joe Carnahan's The Grey turned into a hit with critics and audiences, the director has worked on a couple projects that ended up going nowhere (Daredevil) or in directions that weren't amenable to him (Death Wish). That's an all-too-familiar situation for the director, who has worked for years to make films such as Killing Pablo and White Jazz. But credit Carnahan with persistence and stamina, as he doesn't give up.
Now the director has a new potential directing gig, as he's in talks to make Sugar Bandits, which would be an adaptation of the novel Devils in Exile, by Chuck Hogan.
THR reports that Marc Shmuger and Tom McNulty are producing and Richard Abate is executive producing. Hogan scripted the adaptation of his own novel, which is a somewhat unusual but not truly rare occurrence. (Hogan's novel Prince of Thieves was adapted by other writers into The Town; he also co-wrote the novel The Strain with Guillermo del Toro.)
We don't have any casting info yet, but that's something we should hear about soon. Here's the plot of the novel, and reading this I wonder if Carnahan's friend Frank Grillo might end up in one of the key roles.
Neal Maven comes home from his tour in Iraq to nothing—no job, no friends, no future. Then he meets Brad Royce, a fellow vet, charismatic and confident, with the lifestyle and the one woman Neal has always wanted: Danielle Vetti, Maven's high-school dream girl. Royce offers Maven a spot on his team of vets who intercept major drug deals, take the dirty money, and destroy the product—an adrenaline-charged, get-rich scheme with a clear moral imperative. But is it too good to be true? With two psychotic hit men out for retaliation, a relentless DEA agent closing in, and more questions than answers about Royce, Maven suddenly finds he's in too deep—and the truth may be his worst enemy.
Carnahan has a couple other potential projects in the pipeline, too, such as the vampire film Undying Love, and the action film Stretch.