Star Trek Bits: IMAX Limited Edition Poster, New Clip, And Chance To Meet J.J. Abrams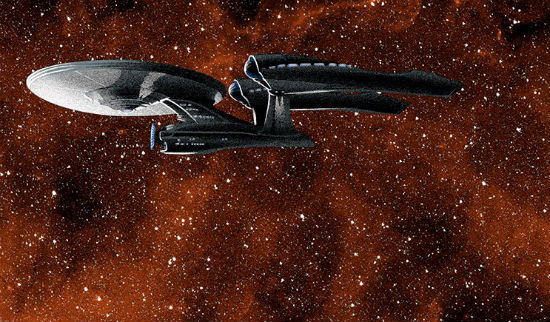 Have you noticed that most of the late night IMAX screenings for the past year or so have been giving out limited edition posters? That tradition will continue, and expand, will the release of J.J. Abrams' Star Trek Into Darkness. IMAX is launching a new program called IMAX FanFix, which teams up with talented artists and curators to give fans high-quality, limited edition art. The first poster in the series is an awesome poster by Mark Englert and Gallery 1988, which will be given to fans who attend 8 p.m. IMAX screenings on May 15. You can see a small tease above.
Below, find a link to all the participating theaters, see a brand new clip featuring a showdown between John Harrison (Benedict Cumberbatch) and Captain Kirk (Chris Pine) and find out how you can bid on a chance to meet  J.J. Abrams at the film's Hollywood premiere.
You can read more about FanFix at this link and find the full list of theaters that will have the poster here. Plus, here's a full image, click for a high-res. Gallery 1988 first debut this poster, which will be handed out as a lithograph, at their Bad Robot Art Experience.

Paramount has also released a brand new clip from Star Trek Into Darkness over on Apple Trailers. Here's an embed.
Finally, if you head to www.Charitybuzz.Com/StarTrek, fans can bid on a chance to not only attend the Star Trek Into Darkness premiere on May 14 in Los Angeles, CA, but meet director J.J. Abrams and the crew too. Plus, Bad Robot will match any donation up to $25,000 and all proceeds go to The Mission Continues, a charity that helps post 9/11 veterans.