'Star Wars Episode VII' Won't Be Particularly Secret Suggests Lucasfilm President Kathleen Kennedy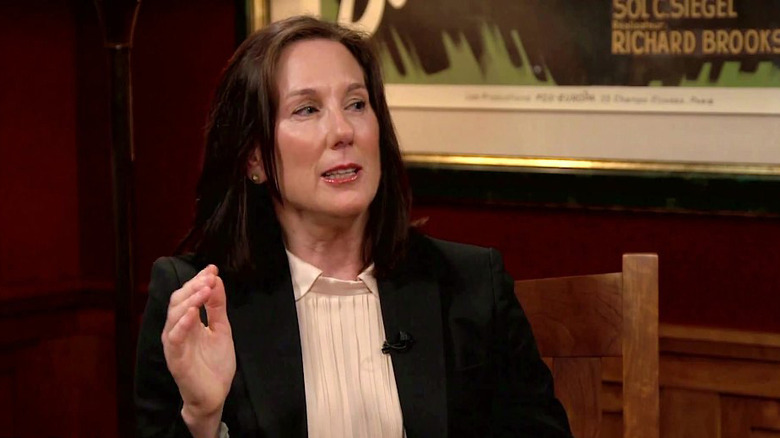 Just how secretive will everything be once J.J. Abrams gets to work on Star Wars Episode VII? If you listen to Lucasfilm President Kathleen Kennedy, the answer is "not as bad as you think." In an interview with ScreenSlam, Kennedy addressed the secrecy currently surrounding the highly anticipated film and promised to "embrace" the fans appetite for information once the film starts shooting. She said the current level of secrecy is something they'll "monitor, pay attention to and think differently about."
Here's the interview thanks to ScreenSlam.com. The exact question comes in at 1:15.
Here's the quote:
Q: How important is secrecy for the company now and how do you try and keep secrets considering how fast things travel?
We talk about that all the time. I think the whole issue of confidentiality is gonna be fascinating as we move into making the movie. If we're shooting anything outside, it's almost impossible to not have things end up on the Internet. So my feeling is, you need to embrace that, especially with the fans around something like Star Wars. You need to recognize they're important to the process and acknowledge there are things you're gonna want to make sure they get to know. So I think that's something we're going to monitor, pay attention to and think differently about.
If we're to believe Kennedy here (And why wouldn't we? She's the person most responsible for these films, not Abrams), that whole Abrams mystery box, keep- everything-hidden-from-everyone way of thinking will not be the norm when Star Wars Episode VII starts shooting. Whether or not he'll be cool with that remains to be seen (hopefully he'll answer that with Star Trek Into Darkness coming out) but keeping fans in the loop will likely keep them happy and not full of venom.
What are your thoughts on this? Will Kennedy be able to change Abrams' thoughts on this? Will we get Star Wars Episode VII information during shooting?