'Red 2' Trailer #2: Bruce Willis Enjoys Life While He Still Can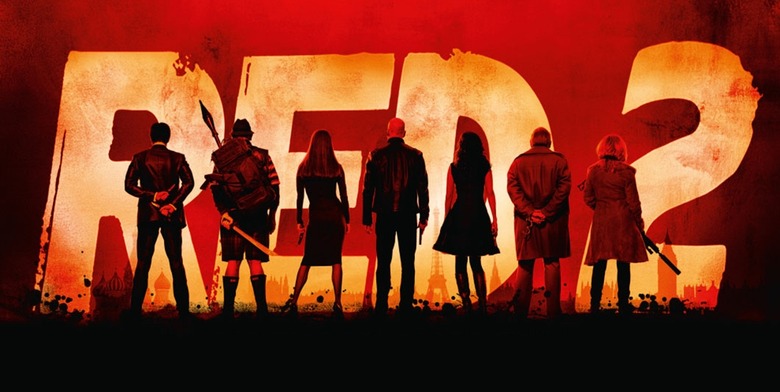 Bruce Willis' year of action sequels continues this summer with Red 2, which reunites him with stars John Malkovich, Helen Mirren, and Mary Louise Parker while bringing on some fresher blood in the form of Catherine Zeta-Jones, Lee Byung-hun, David Thewlis, and Anthony Hopkins.
If you've seen the first one, you know basically what to expect — lots of old people running around shooting people and exploding things. But to get more specific, the plot this time centers on the gang's attempt to track down a missing nuclear bomb while Frank (Willis) is being chased by an elite assassin (Lee). They try to enlist the help of a scientist (Hopkins) locked up in an institution for the criminally insane. A new trailer has just dropped, and you can watch it after the jump.
The new video focuses much more heavily on Hopkins, who seems to be having a lot of fun on his break from more serious fare. But my favorite scenes are still the ones involving Mirren. I dig her no-nonsense badass style. Red 2 probably won't win over folks who didn't care for the first one, but fans  should find plenty to enjoy when Red 2 opens July 19.
In RED 2, the high-octane action-comedy sequel to the worldwide sleeper hit, retired black-ops CIA agent Frank Moses reunites his unlikely team of elite operatives for a global quest to track down a missing portable nuclear device. To succeed, they'll need to survive an army of relentless assassins, ruthless terrorists and power-crazed government officials, all eager to get their hands on the next-generation weapon. The mission takes Frank and his motley crew to Paris, London and Moscow. Outgunned and outmanned, they have only their cunning wits, their old-school skills, and each other to rely on as they try to save the world-and stay alive in the process.