'Monsters University' Trailer #3: Let The Scare Games Begin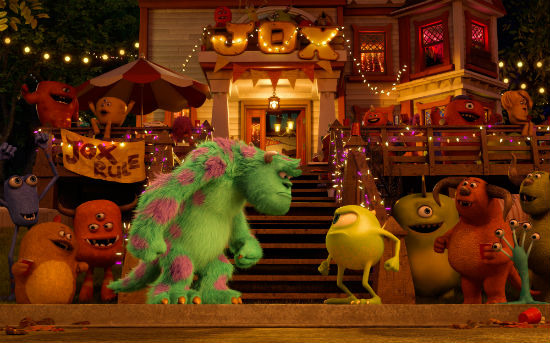 Disney has kind of a big movie opening next week, and is using it to promote the other big movies they have coming up next. We've already seen the first trailer for Thor: The Dark World and now Disney has released a final trailer for Pixar's 2013 film, Monsters University. In this trailer, we get our first glimpse at the film's big Revenge of the Nerds homage, the Scare Games. Students at the university must compete to prove they're the scariest monsters and it's up to Mike (Billy Crystal) and Sulley (John Goodman) to help a ragtag fraternity win it all.
Honestly, while this trailer is really great, it's also incredibly revealing with all kinds of brand new ghosts, gags and ghouls. I'd suggest avoiding it, but since it'll be attached to Iron Man 3 next week anyway, you might as well watch it now.
Thanks to Yahoo for the trailer.
Peter was at Pixar a few weeks back to learn all about Monsters University, including this post on "monsterizing' the film as well as a reaction to the film's first 20 minutes. Check back for even more in the coming weeks.
Ever since college-bound Mike Wazowski (voice of Billy Crystal) was a little monster, he has dreamed of becoming a Scarer—and he knows better than anyone that the best Scarers come from Monsters University (MU). But during his first semester at MU, Mike's plans are derailed when he crosses paths with hotshot James P. Sullivan, "Sulley" (voice of John Goodman), a natural-born Scarer. The pair's out-of-control competitive spirit gets them both kicked out of the University's elite Scare Program. To make matters worse, they realize they will have to work together, along with an odd bunch of misfit monsters, if they ever hope to make things right.
Screaming with laughter and oozing with heart, Disney•Pixar's "Monsters University" is directed by Dan Scanlon ("Cars," "Mater and the Ghostlight," "Tracy"), produced by Kori Rae ("Up," "The Incredibles," "Monsters, Inc.") and features music from Rock and Roll Hall of Fame inductee and award-winning composer Randy Newman  ("Monsters, Inc.," "Toy Story 3"). The film opens in U.S. theaters on June 21, 2013, and will be shown in 3D in select theaters.