Chris Columbus Calls Debut Novel A 'Cousin' To 'The Goonies;' Thinks It's Too Big To Film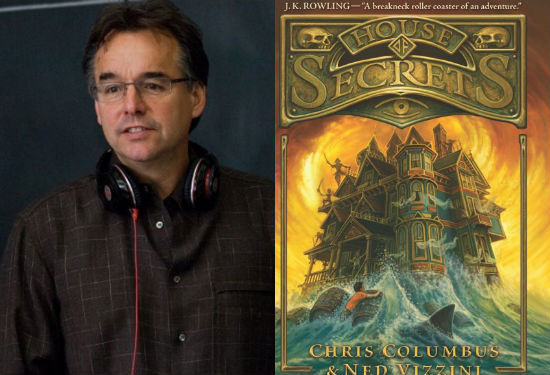 We may receive a commission on purchases made from links.
Chris Columbus might be best known as the director of hit films like Home Alone and Harry Potter and the Sorcerer's Stone, but he got his start as a screenwriter. Long before he directed Mrs. Doubtfire or two Harry Potters, Columbus wrote Young Sherlock Holmes, Gremlins and The Goonies, just to name a few. In recent years, it's that last film most people want to talk to Columbus about because it has resonated with audiences for decades.
About 15 years ago, Columbus was working on another screenplay and, after finishing a portion of it, realized it was way too massive to film. He estimated the budget around $500 million. So he put it away, went about his life, and years later dusted it off. He thought it could work as a novel and, along with co-author Ned Vizzini set to work. The result is called House of Secrets and just hit shelves bearing an endorsement from JK Rowling herself.
House of Secrets tells the story of three siblings who lose their parents and go on an epic adventure, the first of a planned trilogy. Columbus believes the book's story and themes strongly position it as a "cousin" to The Goonies. Read more below.
Columbus talked about the book's origins in an interview with The Hollywood Reporter. Here are the quotes in question.
When I did [Harry] Potter, every production assistant on the set or younger person would come up to me and say "You know, you changed my life with that film Goonies." I would say "What? Really?"  They would say "No, really. It's your best film and we're obsessed with it. When are you going to make a sequel?" I said "It's kind of impossible because the kids are 20 years older. Steve [Spielberg] and I have talked about it a few times, but there's not really an idea that's been working yet. Then when Ned and I were putting together House of Secrets, I felt that this is really a first cousin to Goonies thematically. That's the spirit I wrote the book with. I felt I hadn't written that kind of story since Goonies.
Followed by this:
The thing that appealed to the kids that loved The Goonies was that it was an adventure. The kids depicted in Goonies were realistic American kids who went on an adventure because it was their time to be heroes. That struck a chord with me in writing this book. Kids all over the world, hopefully, will identify with the Walker siblings because they are going on an adventure to try to not only save their home but try to save their parents.
Sounds really cool, no? And it's the first book in a trilogy so it seems like a no-brainer for Hollywood. However, Columbus keeps saying it's too expensive to film. Can the story really be more massive than something like Avatar? Never say never. Here's the description of House of Secrets from Amazon:
From legendary Hollywood director Chris Columbus (Harry Potter and the Sorcerer's Stone and Harry Potter and the Chamber of Secrets) and bestselling author Ned Vizzini (It's Kind of a Funny Story) comes this first book in an epic new fantasy series.
Brendan, Eleanor, and Cordelia Walker once had everything: two loving parents, a beautiful house in San Francisco, and all the portable electronic devices they could want. But everything changed when Dr. Walker lost his job in the wake of a mysterious incident. Now in dire straits, the family must relocate to an old Victorian house that used to be the home of occult novelist Denver Kristoff—a house that feels simultaneously creepy and too good to be true.
By the time the Walkers realize that one of their neighbors has sinister plans for them, they're banished to a primeval forest way off the grid. Their parents? Gone. Their friends? A world away. And they aren't alone. Bloodthirsty medieval warriors patrol the woods around them, supernatural pirates roam the neighboring seas, and a power-hungry queen rules the land. To survive, the siblings will have to be braver than they ever thought possible—and fight against their darkest impulses. The key may lie in their own connection to the secret Kristoff legacy. But as they unravel that legacy, they'll discover it's not just their family that's in danger . . . it's the entire world.