Joseph Gordon-Levitt And Channing Tatum Wanted For 'Guys And Dolls' Remake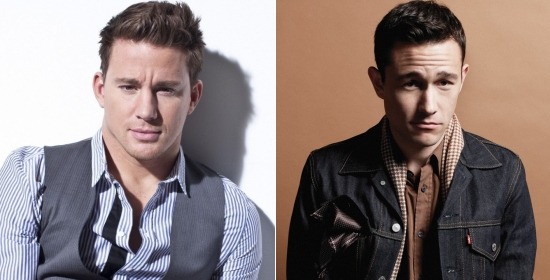 20th Century Fox has just closed a deal to remake the classic stage and screen musical Guys and Dolls, and they know just who they want to be their new Frank Sinatra and Marlon Brando.
While no contracts have actually been signed yet, Channing Tatum and Joseph Gordon-Levitt are reportedly the top picks to be Nathan Detroit and Sky Masterson, and apparently the pair are interested. No writer or director is attached at this time. We'll run down the history of the project after the jump.
Directed by Joseph L. Mankiewicz and based on the short stories of Damon Runyon, the 1955 Guys and Dolls follows gambler Nathan (Sinatra), who wants to raise money for a crap game. He makes a bet with his friend Sky (Brando) that he can get the pious Sarah (Jean Simmons) to accompany him to Havana, but eventually falls in love with her.
The stage musical, which debuted in 1950, earned a Tony Award and almost won a Pulitzer Prize before the Trustees of Columbia University vetoed the selection due to trouble with the House of Un-American Activities committee. The film version was nominated for several Academy Awards. Whoever signs on for the remake will have very big shoes to fill.
No stars will be signed until a screenplay and director are locked in, but Tatum and Gordon-Levitt seem like pretty good choices. They're two of the hottest young stars in Hollywood right now. Both have charm in spades, and both have shown an affinity for dancing. Gordon-Levitt also sings, but I'm not sure we've heard Tatum try. The pair have worked together multiple times before, in G.I. Joe: The Rise of Cobra, Stop-Loss, and Havoc.