'Violet & Daisy' Trailer: Friendship Might Keep These Killers Sane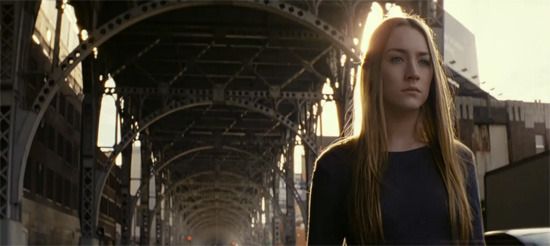 What can we make of Violet & Daisy, which seems to run with the same semi-arthouse tendencies of Hanna or The Professional?
The movie shot in 2010 and played TIFF to varied reviews in 2011. Cinedigm picked it up for distribution last fall, and will release the movie in June. Perhaps the company decided to hold the film until after this year's opening of The Host. This film does, after all, star Saoirse Ronan (of The Host) along with Alexis Bleidel and James Gandolfini. The girls play teen assassins; he's their mark.
If The Host had been a hit, surfing in its wake would have been a good idea. The Host was not a hit, and so now Violet & Daisy has to make its own way as a bit of summer counter-programming. (Putting a bit of distance between this and Hanna was also not a bad idea.) Or perhaps it seemed like a good idea to wait until this could exist in proximity to Spring Breakers and The Bling Ring. Oddly enough, the movies all seem to be of a piece.
The trailer has some mysterious images and enticing moments, but I can't quite get a sense of what the movie really is. Check it out below, and have a look at the great poster we debuted last week.
This was written and directed by Geoffrey Fletcher, who wrote Precious. If that turns you off, consider that this was written first, and that TIFF reviews featured a few comments like this one from Variety: "Frankly, you'd never guess the two pics came from the same pen, so different is this uneasy blend of the hitman and coming-of-age genres."
Violet & Daisy opens on June 7.
Violet (Alexis Bledel) and Daisy (Saoirse Ronan) are a pair of gum-cracking teenage assassins who casually snuff out crime figures in New York City, distracted only by the fact that a concert by their favorite pop idol Barbie Sunday has suddenly been canceled. Determined to raise cash for some Barbie Sunday dresses, the duo takes on a new hit job targeting a mysterious loner (James Gandolfini) who leads them into an unexpected odyssey of self-examination and catapults the junior enforcers into a world beyond Barbie Sunday and bullets for pay. From Academy Award-winning screenwriter Geoffrey Fletcher (PRECIOUS) comes a mesmerizing hybrid of New York City crime fable and existential coming-of-age drama. In VIOLET & DAISY teenage kicks match wits with adult-world turmoil, placing three wounded souls into a line of fire none expected — themselves.