Shane Black Says Chinese Cut Of 'Iron Man 3' Will Have An "Interesting Surprise"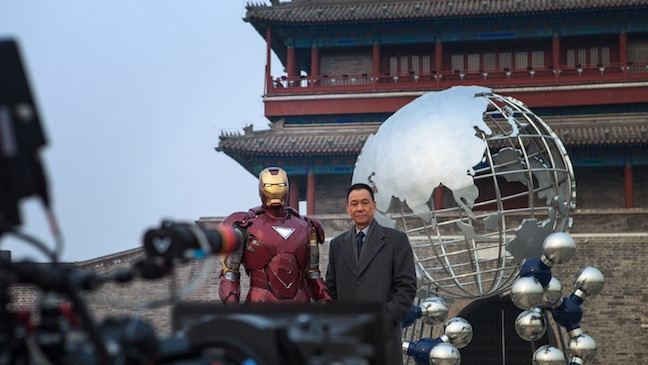 The Chinese version of Iron Man 3 will contain new footage that won't be seen in US theaters; that much we knew. In March Marvel had announced that the Chinese version of the movie would include "significant Chinese elements" and "exclusive footage" created in co-operation with Chinese media company DMG, including a special appearance of China's top actress, Fan Bingbing.
At the Iron Man 3 junket press conference, director Shane Black was asked what the extra footage entails, and his response is after the break.
"Well we left out the giant dragon," joked Black. "The Chinese version will have an interesting surprise. We do know that there's additional footage that will be available in that version, which I'm sure will filter back here."
Co-screenwriter Drew Pearce jumped in to explain, "I think Marvel would like to keep an element of surprise by that, so when the inevitable versions of it feed back to us, you'll see exactly what it involved, but for the moment I don't think we're allowed to talk about it."
Originally I had thought that the alterations had something to do with the film's key villain, the Mandarin, somehow downplaying the origin of the character's Chinese name. That may still be the case, but the comments from Black and crew hint at something more. But even more surprising, it seems like Shane Black wasn't very involved in whatever was changed or added. Black explained:
There was the idea of a Chinese version where it would entail additional footage that I was asked to look at and approve. I was busy doing the American version while we were simultaneously obtaining footage for the Chinese version, so I got a sense of what was going on. I was asked to look at and had a chance later to approve the footage, so now you've got these two versions. I'm just thrilled that we got the opportunity to work with what is one of the single fastest emerging box office environments in the world, which is China, where they build theaters so quickly now.