Michael Bay's 'Armageddon' Mea Culpa Isn't The Apology You Were Expecting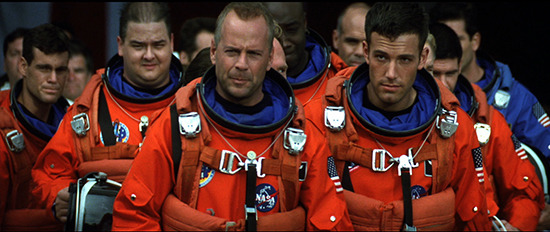 This is a quote I expect Michael Bay is going to address in the near future, but for now it's an interesting statement from a guy who isn't known for modesty. In an interview to promote his new film Pain & Gain, the director of the Transformers films, The Rock, and Armageddon, says "I will apologize for Armageddon."
Reading the full context of the quote, however, his apology doesn't seem like quite the statement people are assuming it to be.
Speaking to the Miami Herald, Bay said,
I will apologize for Armageddon, because we had to do the whole movie in 16 weeks. It was a massive undertaking. That was not fair to the movie. I would redo the entire third act if I could. But the studio literally took the movie away from us. It was terrible. My visual effects supervisor had a nervous breakdown, so I had to be in charge of that. I called James Cameron and asked 'What do you do when you're doing all the effects yourself?' But the movie did fine.
In the original article that featured the quote, this comes in the middle of a conversation about editing and style, bookended by comments about editing Bad Boys ("Bad Boys was my first movie, and we cut that quite fast") and Pain & Gain. And so it seems that Bay is discussing the editing in Armageddon, based on having less time than he wanted to work, and that he isn't apologizing for the movie itself.
But hey, it's more fun to assume that the director people love to hate is talking trash about his own movie. Taking the one phrase on its own, "I will apologize for Armageddon," is more attention-getting than explaining that the director would have liked a lot more time to cut the movie.