Exclusive Clip From Clark Gregg's New Film 'Trust Me'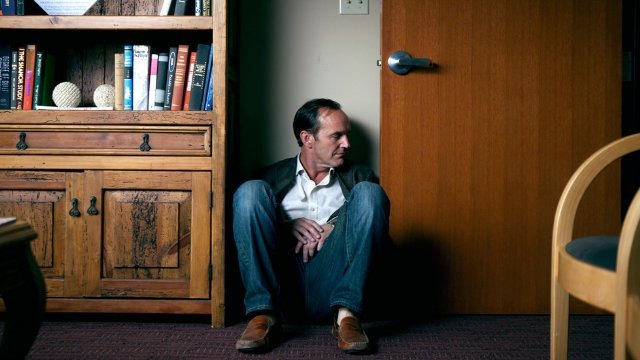 Most movie watchers now know Clark Gregg thanks to his role as Special Agent Coulson in Marvel films such as The Avengers, but the actor has a career that spans well beyond Marvel's reach.
A few years ago he wrote and directed an adaptation of Chuck Palahniuk's novel Choke, starring Sam Rockwell. Now Gregg and Rockwell are working together once more for Trust Me. This film, which Gregg also wrote and directed, traces the efforts of a child star-turned-agent (Gregg) who seeks to sign a teen talent before his nemesis (Rockwell) can poach her.
Below, we've got a long scene from the film, in which Gregg's character makes his pitch to 13 year-old Lydia (Saxon Sharbino) and her suspicious father (Paul Sparks). As you'll see, there's likely some influence here from working in the tentpole/franchise side of Hollywood. In general, however, this appears to be something very much Gregg's own.
Trust Me is playing Tribeca now.
TRUST ME is a moving, funny neo-noir about a struggling agent for child actors and former child star himself, Howard Holloway (Gregg), who spends years losing his most talented clients to his slick, arch-nemesis Aldo Shocklee (Sam Rockwell). Until the day that Howard encounters the brilliant and un-signed 13 year-old Lydia (newcomer Saxon Sharbino) who is on the brink of securing the lead in a new Twilight-style franchise. Howard tries desperately to close the deal of a lifetime and make his precocious young client a star while managing her drunk, volatile father (Paul Sparks –Boardwalk Empire), Aldo's relentless poaching attempts, and the hostile machinations of the project's casting director (Allison Janney) and mega producer (Felicity Huffman), who both despise him. But the closer he gets to achieving the Hollywood score he has chased all his life, the more he develops a growing suspicion that his innocent young starlet may not be at all what she seems.