'Star Trek Into Darkness' Clip: Save A Crew Member, Or Violate The Prime Directive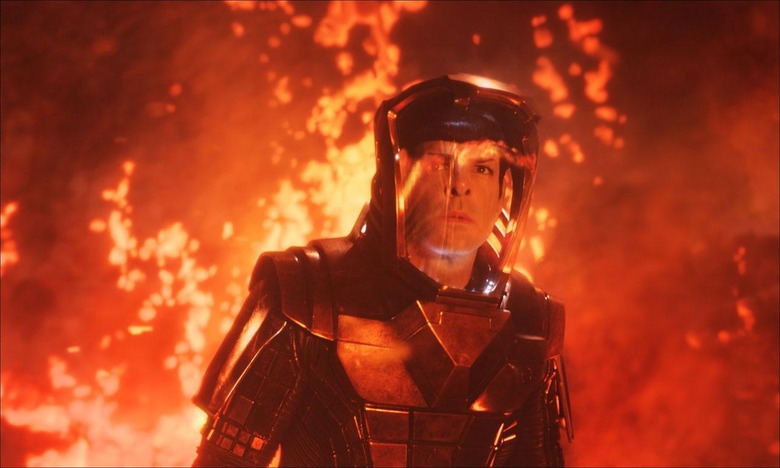 Most of the marketing for Star Trek Into Darkness has focused on some big elements: the unknown of Benedict Cumberbatch's John Harrison character, the threat of terrorism, and the opportunity for Kirk (Chris Pine) to rise above his shortcomings and become an even better leader.
This clip is all old-school Trek. Drawn from the IMAX prologue to the film (meaning it takes place early in the movie) this features a classic conundrum on the bridge of the Enterprise: Spock (Zachary Quinto) is in peril trying to achieve a mission goal, and there seem to be only two possible outcomes. Either he finishes his work, and dies, or is rescued, which would result in a violation of the Prime Directive. (The directive disallows interference in the development of alien civilizations.)
We don't get to see how this scenario (is it a training mission?) plays out, but this will give you an idea of the way that director J.J. Abrams is playing with some classic Trek elements.
[via AOL]
This clip leaves me with one big question: what the hell are those blue suits? There are some pretty typical Starfleet uniforms here, but I'm not sure exactly what Kirk and some of the other crew members are sporting. I'm sure there will be some explanation, but in the meantime I'll continue to think about them having come straight from an Aquaman fan film.
Star Trek Into Darkness opens on May 15 in IMAX and in 2D and 3D on May 17th. It also features Zoe Saldana, Karl Urban, Anton Yelchin, John Cho, Bruce Greenwood, Alice Eve, and Peter Weller.
In the wake of a shocking act of terror from within their own organization, the crew of The Enterprise is called back home to Earth.  In defiance of regulations and with a personal score to settle, Captain Kirk leads his crew on a manhunt to capture an unstoppable force of destruction and bring those responsible to justice. As our heroes are propelled into an epic chess game of life and death, love will be challenged, friendships will be torn apart, and sacrifices must be made for the only family Kirk has left: his crew.