New 'Thor: The Dark World' Images And Plot Info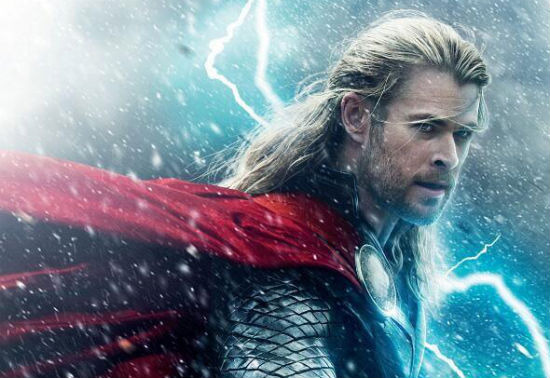 Tomorrow we'll see the debut footage from Alan Taylor's Thor: The Dark World when the trailer goes online, but today we've got a few new images to whet your appetite for another trip to Asgard. Along with the pics are some quotes from Chris Hemsworth and Marvel producer Kevin Feige, offering up a bit of new info about the story that plays out in the upcoming film. 
Here are the images, from USA Today:
The synopsis for the film doesn't really give us much to go on — there's a villain, a conflict, and a promise of new developments for the main character. But this paragraph is pretty short on specifics.
Marvel's "Thor: The Dark World" continues the big-screen adventures of Thor, the Mighty Avenger, as he battles to save Earth and all the Nine Realms from a shadowy enemy that predates the universe itself.  In the aftermath of Marvel's "Thor" and "Marvel's The Avengers," Thor fights to restore order across the cosmos...but an ancient race led by the vengeful Malekith returns to plunge the universe back into darkness.  Faced with an enemy that even Odin and Asgard cannot withstand, Thor must embark on his most perilous and personal journey yet, one that will reunite him with Jane Foster and force him to sacrifice everything to save us all.
Speaking to USA Today, Feige explains that Jane Foster (Natalie Portman) is brought to Asgard for her safety. "So while Thor was a fish out of water on Earth in the first two films (Thor and The Avengers), this time Jane is very much a fish out of water in Asgard...It's superhero action, but it's the familiar territory of a love triangle where the parents think your girlfriend is wrong for you. That's how the best of these movies work."
Hemsworth echoes that, noting that the fact that Jane wasn't involved in the story of The Avengers will be a problem of sorts for him. "Thor still has lot of explaining to do, and a lot of making up... Even demigods end up in the doghouse, mate. So none of us is safe."
The actor also alludes to new moves for his character. "I really wanted to ramp up his skill set in battle... He's not just this Viking throwing the hammer. Here he's more demigod with dynamic moves we haven't seen before." And then there's the return of Loki (Tom Hiddleston), upon whom Thor calls for assistance. "Needing Loki's help turns everything on its head, and it allows us to explore the underlying complexities of their relationship. It really ends up being a kind of chess match."
Thor: The Dark World also features Stellan Skarsgård, Idris Elba, Adewale Akinnuoye-Agbaje, Kat Dennings, Ray Stevenson, Zachary Levi, Tadanobu Asano and Jaimie Alexander with Rene Russo and Anthony Hopkins. It opens on November 8.