'This Is The End' Wishes You A Happy 4/20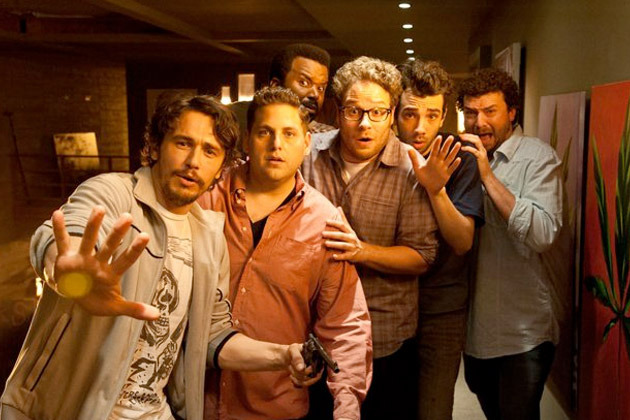 Seth Rogen and Evan Goldberg's This Is the End isn't due out for another couple of months, but obviously a bunch of potheads like the ones depicted in the film aren't about to let 4/20 pass unnoticed. The apocalyptic comedy has just put up a "holiday" greeting, in which stars Rogen, James Franco, Jay Baruchel, and Danny McBride show us their plans for the special day.
And since the portion of the audience that's celebrating along with them is probably prone to getting the munchies, the studio's offering to satisfy those cravings with some free popcorn. Hit the jump for more.
Whether you snap up your tickets tomorrow or (in more stereotypical stoner fashion) forget to do so until much later, This Is the End looks very much worth checking out. The central cast — which also includes Jonah Hill and Craig Robinson — have fantastic chemistry from having done tons of films together, and the supporting cast is chock full of recognizable faces from the comedy world and beyond.
As we've said a million times before, a star-studded cast doesn't necessarily indicate a good movie. But Goldberg and Rogen seem to put their pals to good use here, based on the very funny trailers released so far. Prepare for the most hilarious apocalypse ever when This Is the End arrives June 12.
When Jay Baruchel and Seth Rogen head to James Franco's house for a party, they're not surprised to see the likes of Jonah Hill, Danny McBride, Craig Robinson, Michael Cera, Aziz Ansari, Kevin Hart, Jason Segel, Paul Rudd, Rihanna and Emma Watson.What they are surprised about is when the apocalypse starts right outside their door and many of those friends meet their untimely deaths. That leaves six of the friends (Franco, Rogen, Hill, McBride, Robinson, Baruchel) in survival mode.